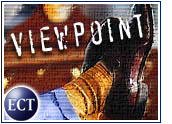 E-commerce proponents often believe that anything sold offline is fair game for online sales.
New Economy cheerleaders might say, for example, that selling health insurance online is as credible a notion as selling baseball memorabilia.
There is a hole in that argument, however. Few shoppers require high levels of handholding while buying a Mets jacket, while those buying insurance to cover catastrophic illnesses have traditionally craved the human touch, some educated guidance and even a bit of — dare we suggest it? — finesse.
Finesse is in short supply in the world of online selling. Point-and-click somehow does not have the same humanity and gentle spirit as good body language, eye contact and a handshake, traditionally the essential ingredients closing an insurance sale.
Maybe that's why the insurance industry has had a tough time duplicating its years of success offline in the new world of e-commerce.
Or maybe that's far too simple of an explanation.
Too Many Hurdles
To really understand the challenge that confronts insurance companies trying to adapt their business model to online sales, consider these roadblocks:
Even insurance companies like to screen their applicants personally. Some companies are leery of the online process and subscribe to the need for a face-to-face interaction between agent and potential client.
State insurance regulations are varied, confusing and difficult to generalize to a mass consumer base.
More Roadblocks
For smaller companies, the cost of online technology and marketing may be prohibitive. Also, some insurance carriers cannot offer discounts. Cost-to-coverage ratio is critical in closing an insurance sale.
Just to qualify for consideration for an online policy, users have to jump through hoops, answer endless questions and be willing to give up some leisure time for an exercise that may only result in a message that says, "You will be notified via e-mail if a policy suitable for your needs is available to you."
Now there's a dealbreaker just waiting to happen.
Two Steps Back
A recent study by Mercer Management Consulting said that of 1,200 consumers questioned, only 5 percent had bought insurance via the Internet. So the question is, by the time Internet users begin to trust the process of online financial services, will insurance Web sites have already run out of operating capital?
Some progress has been made, often the result of a nice blend of luck and strategy. Digital signatures became legal, which would seem to be a big step forward for the industry — at least assuming individual states can work out the usage details.
Also, some insurance carriers fully understand the need for customers to have a real person with whom to communicate about their applications and policies. Therefore, they have added customer service agents who can be reached by telephone.
Customers, however, do not see the point of dealing with both an online service and a telephone call. Why do both when you can accomplish what is needed with a simple toll-free call?
The Perfect Sale
To date, the insurance companies have done little to enable customers to save money, time and hassle by dealing exclusively online. However, two of the biggest and most successful companies, Allstate and State Farm, are seeing the light and fighting the good fight for online credibility.
Allstate is reportedly spending US$1 billion to perfect a state-of-the-art online sales program. Likewise, State Farm continues its quest to be your "good neighbor" and is just now beginning its foray into online sales.
And how about that John Hancock? It takes about five minutes online to get a quote from this major player, and even Internet novices will find the site simple to navigate.
Little by Little
But what about the smaller guys and the pure-play online insurers? Any hope for them? Maybe.
Startups could take a page from the playbook of eHealthInsurance, an online company that lists 54 insurance carriers and seems to have come up with a viable strategy.
eHealthInsurance struck a deal with Big Three automaker DaimlerChrysler. The auto giant will recommend the online insurer's services to its thousands of dealerships and suppliers. Call it riding on the coattails of a brick-and-mortar giant if you like, but it may just work for eHealthInsurance.
In a world leaning toward a click-and-mortar lifestyle, eHealthInsurance may emerge as the prototype for successful online insurance sales.
What do you think? Let's talk about it.


---
Note:
The opinions expressed by our columnists are their own and do not necessarily reflect the views of the E-Commerce Times or its management.
---