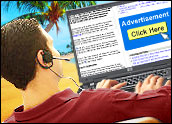 Advertisers sunk nearly US$3 billion into online marketing campaigns in second quarter, with spending on Web advertising jumping 26 percent over the same period last year, according to a new report.
The Interactive Advertising Bureau (IAB) and PricewaterhouseCoopers said Internet advertising revenues for the second quarter were $2.985 billion, up 7 percent over the first quarter of this year.
Consistent Spending
Online advertising marked its 10th straight quarter of growth, according to the IAB study, with the second quarter setting a new record for Internet marketing spending.
Search marketing continued to dominate, grabbing 40 percent of the total online ad spending in the quarter.
"It is clear from this continued growth, that most agencies and marketers are now committed to Interactive as a critical medium in reaching their audiences, as well as engaging them in more immersive brand experiences," said Greg Stuart, president and CEO of the IAB. "At the end of the day, it is about increased effectiveness from your marketing dollars and Interactive delivers this."
PricewaterhouseCoopers partner David Silverman said the growth is a "natural development" since consumers are spending more time online, with less time spent on traditional media. "The flow of advertising dollars follows," he added.
Keeping Pace
The IAB said the numbers also highlight how the Web has come into its own as a branding medium, evolving from a strictly call-to-action advertising format.
Rich media advertising rose 26 percent in the quarter, the report said, just edged out by search, which rose 27 percent. The IAB is currently finalizing guidelines for rich media and broadband advertising to help foster the growth of TV-style video ads.
Another fast-growing segment of online marketing was so-called lead-generation and referrals, which nearly tripled to $347 million, or about 6 percent of total online spending. Falling were sponsorship programs, which lost 23 percent year-over-year to $317 million, and so-called slotting fees, which fell 37 percent to $58 million.
Not a Surprise
Online advertising has been growing steadily since early 2003 and is on track to surpass the $10 billion annual spending level for the first time in history. Research firm eMarketer predicts that more than $12 billion will be spent this year, double 2004 levels. By 2009, that's expected to reach $22 billion.
"The spending growth is impressive, but shouldn't come as too great a surprise," said senior analyst David Hallerman. "These dazzling increases are possible in part because growth came from such a small base. And in the last few years the Internet has truly become a mainstream medium."
Hallerman said the Web advertising sector is seeing expected growth given how many people now turn to the Web for news, information, communications and entertainment. "These yearly and quarterly ad spending gains point to a sea of change in media usage among marketers, reflecting how the Internet has become an essential element of daily life for more and more individuals," he added.
Meanwhile, there's evidence that like online advertising, e-commerce is poised for a strong run heading into the all-important fourth quarter.
Piper Jaffray analyst Safa Rashtchy said in a report that many e-tailers are building up extra inventories and boosting marketing budgets in anticipation of a strong fourth quarter. Some analysts believe the high price of gasoline may contribute to growth, with consumers thinking twice before driving to the mall to do their shopping.