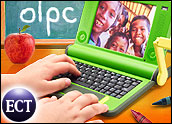 One Laptop Per Child, a Boston-based nonprofit dedicated to providing cheap laptop computers to children in underdeveloped countries, has laid off 50 percent of its staff.
That leaves the organization with 32 employees, all of whom have taken salary cuts in an attempt to cut costs, said Matt Keller, OLPC's director of Europe, the Middle East and Africa.
The staff reductions were the result of the global recession and increased competition in the PC sector, Keller told the E-Commerce Times.
The nonprofit will also refocus its efforts both geographically and in terms of the technology initiatives it will pursue, according to OLPC's leader, Nicholas Negroponte.
"While we are saddened by this development, we remain firmly committed to our mission of getting laptops to children in developing countries," Negroponte wrote for an OLPC blog post.
Netbooks Hurt Nonprofit
One of the biggest blows to OLPC was the advent of netbooks — cheap, Internet-ready laptops that sell for between US$200 and $300 apiece. The no-frills laptops are direct competitors to the computers designed and manufactured by OLPC, and they had a major impact on the nonprofit's Give One, Get One program in 2008, Keller said.
The Give One, Get One enables families in developed countries to donate an OLPC computer to a child in a developing country. In return, the family that makes the donation receives an OLPC computer.
"If you're a parent [in the U.S.] and you're looking to buy a first-time laptop for one of your kids, you're probably going to go with something you're familiar with, not something that is designed for children who live in exotic places," Keller said.
Renewed Mission
Since its inception in 2005, OLPC has provided laptops to more than 500,000 children throughout the world, according to Negroponte's blog comments.
Now, the nonprofit will focus on developing the next generation of its XO laptop and a no-cost Internet connectivity program. The group will also pass on the development of Sugar, an educational software platform, to the development community.
OLPC's Latin American initiatives will be spun off into a separate support unit, while Sub-Saharan Africa, the Middle East, Afghanistan and northwest Pakistan will become points of major focus.
Also, OLPC will dedicate itself to bringing the cost of the XO laptop down to zero for the least developed countries in the world.
"We decided now was the time to make some major moves," Keller said.