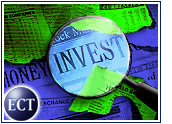 Art Technology Group, Inc. (Nasdaq: ARTG)rose 11/16 to 48 11/16 Thursday after the company shelved a plan to sell 4million common shares in a secondary offering.
Shareholders had been planning to sell another 725,000 shares in theoffering, which the e-commerce software company said it canceled because of"current stock market conditions."
With $46 million in cash and equivalents on hand, "we believe it is not in the best interests of thecompany to complete the offering at this time," said chief executive officerJeet Singh.
Art Technology filed with the U.S. Securities and Exchange Commission justlast month to sell the shares, saying it wanted to use the $331.2 million innet proceeds for working capital and other general corporate purposes,including possible acquisitions.
Separately Thursday, Art Technology said InfoSphere, Inc., a Fort Worth,Texas-based Internet consulting company, will use its Dynamo software in anew e-commerce Web site.
The company also said it had been named No. 105 on the Deloitte & ToucheTechnology Fast 500, a list of the fastest growing North American technologycompanies. A day earlier, Art Technology was added to the Standard 100, anindex that trades on the American Stock Exchange and is designed to trackthe Internet economy.
The company reported third-quarter income of 7 cents per share, as revenuejumped 472 percent from a year earlier. The company has boosted itsinternational marketing and sales efforts in recent months, a strategy Singhsaid is paying off.
Art Technology, based in Cambridge, Massachusetts, makes e-commerce andcustomer relationship management software. Company shares are down from a52-week high of 126 7/8, but are above a 52-week low of 28 5/8.