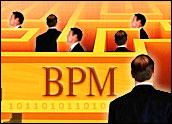 Recent activity in the business process management (BPM) space signals a coming of age for an application that until recently was the focus of pure-play BPM providers. So says Chuck Ames, president and CEO of Oak Grove Systems, a BPM software company based in Calabasas, California.
JBoss' recent jBPM announcement, along with acquisitions like Tibco's purchase of Staffware and Oracle's purchase of Collaxa, point to a larger trend: more competition equals more innovation equals more adoption. Indeed, a growing cadre of companies that includes heavy hitters like Oracle, BEA Systems, IBM and Microsoft is competing for a BPM market that Gartner predicts will see moderate double-digit growth, to US$598 million, through 2007.
Oak Grove Systems is in the thick of the battle and has made strides toward ensuring itself a piece of the pie with innovative technologies. It's November release of Reactor 6.0 provides .NET and Java interoperability through its new Web services interface, while other enhancements add clustering, load balancing, automatic failover, improved performance, and support for the Business Process Modeling Notation (BPMN) standard.
Oak Grove Systems' clients include SAS, Sybase, Plumtree Software, Cardonet, Empolis GmbH (Bertelsmann MOHN Media Group), Intentia International and the U.S. Navy.
The E-Commerce Times caught up with Ames to discuss where the BPM market is headed and how his company is helping to take it there.
E-Commerce Times: Why is the BPM market getting so much attention these days? What is driving the need for these solutions?
Ames: There are two primary reasons for the recent increased focus on BPM. First, even with the improving economic climate, many companies remain focused on operations, looking for ways to improve their margins by doing more with less. Business Process Management is, first and foremost, a technique for doing whatever it is that you do better.
Second, and perhaps more importantly, widespread adoption of interoperable technologies like XML, Java and Web Services have brought us to the point where a much broader range of processes can now be automated economically. Much like how the Panama Canal remained impractical until we got a handle on malaria, the integration requirements of BPM technology have, until recently, effectively blocked BPM implementations by making them far too expensive. That is now changing, and new paths to productivity are being opened as a result.
ECT: Have accounting and governance issues contributed to the rising demand for BPM software?
Ames: Absolutely. Reactions to recent trends threaten to introduce new levels of bureaucracy across the board, and IT savvy executives see BPM as a promising way of keeping down the cost of complying with new regulations.
ECT: How much of a factor is an improving economy playing in the rise of BPM?
Ames: I think the key is that the economy is improving at a consistent rate — fast enough so that executives are willing to invest in new projects, but not so bullish that we start bumping "productivity" projects to make room for "growth" projects. This sustained focus on operations is what is driving demand for BPM software.
ECT: What is the state of the business process management software market today? How mature are the current solutions?
Ames: This is an exciting and challenging time to be in the BPM business. On one hand, BPM ranks high on many CIO's priorities in the coming years, and that number is increasing. On the other hand, there are so many vendors offering incomplete, overlapping, and incompatible BPM solutions that it can be confusing for customers to find what they need and make a selection. On balance, I think it's pretty much what you would expect to see in an early market category on the verge of breaking out.
ECT: What else is the market looking for in terms of BPM solutions that are not yet available?
Ames: Standards. Not just specs — there are plenty of those already. BPM is such a broad market that different vendors will have entirely unique — and often incompatible — approaches to it. Think of data processing before SQL. Data storage and retrieval was very well understood, but what part of it did you buy with the application? What part was reusable? What part did you build? Those questions are not yet settled in BPM, but they are next up.
ECT: I've heard you say that BPM is on the verge of crossing the chasm? What leads you to believe that?
Ames: Geoffrey Moore's characterization of the period just beyond the chasm as a "tornado" is particularly apt: No one can predict when these things will happen, but we can tell when conditions are ripe. Increasing demand, the proliferation of vendors (with Oracle, Tibco, Apache and Jboss jumping into the mix), but no clear market leaders, and favorable economic conditions suggest that a market tornado could form around a few key solutions.
ECT: What are the most significant trends in the BPM market today?
Ames: BPM software is starting to find its way into the enterprise as a "shared service": a standard tool, like spreadsheets and file servers — so that people can start to see how they might use it beyond its initial purpose. Along with that, there is a strong trend toward taking programmers out of the development process, making it practical for business users to define and deploy workflow applications on their own. We're not quite there yet, but getting closer.
ECT: How will increased competition impact the marketplace?
Ames: Judging from what our customers and prospects have been saying, it will drive vendors toward standardized solutions. No one wants to hear about radical new approaches — they want to know how others have been successful and how they will maintain vendor independence. This is another data point that leads me to believe conditions are ripe for a breakout — these are majority buyer preferences.
ECT: What are the greatest challenges in the BPM market today and how will vendors overcome those challenges?
Ames: I think the greatest challenge for any BPM vendor right now is to rise above the noise, to stand out in a crowded space. The best way to do that is to stay focused on customer success. This will be a difficult time for vendors who have trouble moving beyond "inventing the technology" to "driving success with the technology."
ECT: What are the greatest barriers to enterprise adoption of BPM software?
Ames: Cost structure — the BPM industry is still focused on high up-front license fees, often packaged with even larger consulting contracts. Enterprises need to be able to experiment, implement a few low cost/high return projects to get a feel for how and when to deploy BPM, and then make the commitment to the solution.
ECT: Can BPM overcome hurdles like the open-source community's lack of strength in developing business-user friendly software?
Ames: Open source will certainly play a role in the adoption of BPM, but it will be most prominent on the infrastructure side, and will most likely follow successful commercial solutions. There are very few examples of open source driving the adoption of new standards — it is more often the case that open-source projects provide low cost alternatives to established technologies.
ECT: Is it possible that middleware players will take over the BPM market, or will pure-play BPM providers continue to drive innovation?
Ames: I think that pure-plays will continue to drive innovation for the foreseeable future, though consolidation is inevitable, and BPM could end up being in the hands of today's middleware vendors. BPM technology has historically been viewed by a range of vendors as a means to tie customers more closely to their core products. But BPM is most valuable when applied across application, system and organizational boundaries. I think it is unlikely that we will see a Tibco or a BEA release BPM products that interoperate with their competitors middleware products any time soon.
ECT: Will BPM standards solidify in time to enable thiscrossing the chasm you speak of?
Ames: Making that call is a bit like prophesizing if a political candidate's platform will stabilize in time for them to be elected. I do think vendors will continue to tweak things until they get broad positive responses, but once the stampede begins, whatever is in place and most prominent at that time will become the standard. What matters most is repeatable, transferable customer success, regardless of whether you pronounce it "B-Pell" or "Bipple."
ECT: Where is the BPM market headed?
Ames: I think that in five years, people will buy BPM engines the way we currently buy databases. The tools will be standardized and vendors will compete to supply the best implementations. Enterprise users will create and deploy workflows the way they currently build and use spreadsheet models and Access databases. BPM will become part of the software infrastructure, like Web browsers and e-mail, which we use to get work done in largeorganizations.
ECT: What role is your company playing in this BPM revolution?
Ames: Our mission is to make BPM technology more accessible and BPM solutions more affordable. We do this through a combination of simplified pricing, business-user-friendly tools, and vendor/application/technology-neutral design that leverages your existing infrastructure. This makes it much easier for enterprises to get started implementing BPM.
Over the past several years we have helped add BPM capabilities to a broad range of packaged solutions by OEM-ing our technology to more than 50 independent software vendors, including SAS, Sybase, Plumtree Software. Our customers have used our products to wrap workflows around and enhance the value of their enterprise applications.
Now we are making our enterprise grade BPM tools affordable and accessible to enterprise developers and business users who want to develop solutions to automate their in-house business flows. Oak Grove's Reactor Business Process Servers are priced for unlimited processes and unlimited users, so there are no barriers to experimenting and developing new applications. Our Reactor Business Process Studio is a business-user friendly tool for designing and deploying complete workflow applications without coding. Our fully customizable Reactor Business Process Manager provides a complete environment for participating in and monitoring business processes in Web-based environment.