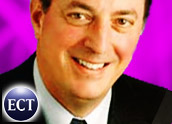 Leading chipmaker Intel did not have to search far and wide for a replacement for its outgoing CEO, naming longtime executive and current president and chief operating officer Paul Otellini to the top post.
Intel's Board of Directors elected Otellini to take over from Craig Barrett effective in May of 2005. Barrett, who was CEO for seven years, will move into the chairman's seat on the board, replacing legendary company founder Andrew S. Grove, who will become a senior advisor.
Grove said he was confident, having watched Otellini work with Barrett over the years, that the move was the right one for the company.
"Craig and Paul are the right team at the right time for Intel," Grove said in a statement. "I know that Paul's vitality and deep knowledge of Intel's products, customers and global markets, together with Craig's stature as an industry leader and pre-eminent technologist, make them outstanding choices."
While any CEO-level handoff is fraught with peril for even the most stable of companies, the shift at Intel comes at a time when the company is facing increased pressure from its rivals in some market segments and as the chip industry might be facing leaner times as some analysts say demand in the highly cyclical sector might be due to cool some in 2005 and beyond.
Familiarity Factor
An Intel spokesman said the company did not expect any major changes as a result of Otellini's appointment and noted that the handoff was still several months away.
But some of the direction in which Otellini might lead Intel might already be coming into focus. Intel is said to be readying the roll out of a set of desktop chips that it will back with a Centrino-style marketing campaign.
Those chips reportedly would be built to enable easy networking for home entertainment uses, another area where Intel has dedicated vast resources. Last week, Intel said it would work with Microsoft to co-sponsor a massive media campaign aimed at educating consumers about technology for the digital home.
Otellini certainly knows his way around Intel's Santa Clara, California, headquarters, having joined the company 30 years ago, in 1974, as a recent MBA graduate.
He's held the titles of president and COO since 2002 and in between held a variety of positions, including assistant to then-president Grove, and headed the group that introduced the hugely successful Pentium processor in 1993. He also helped developed Intel's abilities to sell its chips directly to buyers online and headed the Intel Architecture business.
That depth of experience with the products will be necessary as Intel tries to beat back competition that has nibbled away at its dominant market position in recent years.
The announcement came just a day after Intel announced it would boost its quarterly dividend to shareholders and expand a share-buyback program. Together, the news drove shares of Intel modestly higher in early trading today, when it was up about 1.5 percent to US$23.17.
24-7-64 Bit
The change at the top comes as Intel, widely regarded as one of the best run technology companies, has had to endure some recent missteps, most notably a decision to shelve a promised push to roll out a faster Pentium 4 chip. It has also caused a stir by dropping prices, a move some say is aimed at reducing growing inventory levels to make room for new chipsets.
One area where analysts say Intel left itself open to competition is in the race to get 64-bit chips into the marketplace, a segment where top competitor Advanced Micro Devices (AMD) has made the biggest splashes to date.
Insight64 analyst Nathan Brookwood said the fact that AMD had signed a long-term production agreement with Chartered Semiconductor this week seems to indicate the company is confident that its 64-bit chips will "gain substantial market share over the next 18 months."
"The next two years will be one of those rare periods in AMD's history when the company's product technology, process technology and manufacturing capacity all come into alignment," Brookwood said.
Still, few observers are willing to count out Intel, which has a history of leading on innovation and strong relationships — though in many cases no longer exclusive — with almost all of the top PC and server makers.
Mercury Research President Dean McCarron said AMD has excelled at positioning and pricing its 64-bit chips, and while Intel has been forced to react, it is fully capable of doing so.
"Intel still has the power of the market on its side," he said.