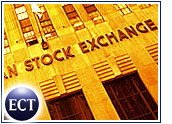 Novell, Inc. (Nasdaq: NOVL) was down31/32 at 6 15/16 early Wednesday after reporting lower revenue and earningsfor the fourth quarter and year ended October 31st.
The Provo, Utah-based software maker said revenue for the quarter fell toUS$273 million from $345 million a year earlier. A restructuring charge led toa loss of 11 cents per share, compared with income of 21 cents in theyear-earlier quarter.
Excluding the restructuring charge, the company posted breakeven earningsper share, in line with analysts' expectations.
For the year as a whole, revenue slipped to $1.16 billion from $1.27billion, and net income fell to $49 million, or 15 cents per fully dilutedshare, from $191 million, or 55 cents.
"Fiscal 2000 has been a very difficult year for Novell following dramaticdeclines in traditional packaged software sales," said chairman and chiefexecutive officer Eric Schmidt. "Growth in new Net services did notaccelerate fast enough to offset this decline."
Novell, said Schmidt, aims to improve its performance in the coming year byconcentrating on Internet services. "By the end of 2001, we intend to havegained broad market recognition of Novell as an e-business Net servicesplatform provider that delivers must-have capabilities, including security,identity, acceleration and management," he said.
Weak performance from the company's European division also hurt results, thecompany said. Revenue from Europe dropped 33 percent in the fourth quarterwhen compared to a year earlier.
While new programs designed around Net services began in October and arelikely to be in place by the end of the current quarter, it will take"several quarters" before the shift in business is complete, the companysaid.
"We expect overall Novell revenue performance to continue to be soft untilwe gain the combined benefit of new e-business deployments and complete ashift in channel programs to include a new group of partners from the ranksof consulting systems integrators and other service providers," said chieffinancial officer Dennis Raney.