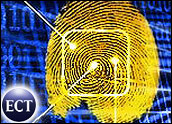 In one of the most sweeping domestic law enforcement actions against online child pornography in recent times, New Jersey officials announced on Thursday the arrests of 41 people for possession or distribution of graphic images of child molestation.
Dubbed "Operation Silent Shield," the roundup was the culmination of a two-month investigation, much of it involving following leads online, by theNew Jersey State Police Digital Technology Investigations Unit.
"Many who have sexually assaulted children started down that road with child porn," said Colonel Rick Fuentes, superintendent of the New Jersey State Police. "This operation places a roadblock in their path. Those convicted of the charges announced today will become registered sex offenders and no longer be able to fly under the radar."
'Not a Victimless Crime'
The investigation began in August and unveiled disturbing images and video clips of children being molested and raped, said the state's attorney general, Anne Milgram.
"Child pornography is not a victimless crime," she added. The National Center for Missing and Exploited Children has identified several of the youngsters in the videos as children separated from their parents. Their ages range between 4 and 9.
"We are committed to combating abuse and predatory behavior against children," Milgram said.
Among those arrested were a volunteer referee for girls' volleyball games and others who work around young people.
Digital Fingerprints
Investigators were able to track down the suspects by following the unique digital thumbprints placed on images as they are sent digitally. State police investigators and those from local and county law enforcement agencies across New Jersey began serving search warrants and making arrests over the last 10 days, following months of information-gathering.
Most of those arrested have been charged with violating the state's Endangering the Welfare of a Child law. Investigators suggested additional charges could be forthcoming based on evidence contained on hard drives and other technology equipment seized during the execution of the warrants. About half are charged with possession of child pornography; the rest will face charges of possessing and distributing the material, Milgram said.
Under state law, possessing child pornography can be punished by up to 18 months in prison; the penalties for distributing the material can be up to 10 years in jail.
Tracking Online Movements
All but one of the 41 arrested are males. Four suspects are having their cases handled in the juvenile justice system and face lesser charges. The youngest person arrested is 14, and the oldest is 71 years old. Most were released on bail. The highest bail was set at US$75,000 for Peter Gelesky, 51, of Avenel, N.J., who reportedly volunteered as a referee for a high school girls' volleyball team.
The New Jersey state police unit focusing on Web-based crimes is authorized by the federal Department of Justice as one of the 46 Internet Crimes Against Children (ICAC) Regional Task Forces, Milgram noted, providing it with access to training and other support from the federal government.
"The technology to track images and trace them back to their origins has been around for a while," noted Frost & Sullivan analyst Mukul Krishna. "What has not been brought to bear is the significant resources needed on the law enforcement side."
Such investigations require hundreds or thousands of hours of manpower, and the law enforcement agents first need training in the use of technological tools to track online movements. That has only started to happen recently, Krishna told the E-Commerce Times. "With the right resources, law enforcement can track down Webcriminals of all sorts."
Shattering Illusions
The New Jersey sting comes about four months after a major international child porn ring was broken up by investigators. British police worked with authorities in 35 countries across the globe and brought charges against 700 people in June. That law enforcement effort focused on an Internet chat room "Kids, the lightof our lives."
As with that sting, the N.J. investigation apparently involved tracking users through postings to sites such as MySpace and others where individuals' profiles would contain references to children. Last week, Milgram subpoenaed social networking siteFacebook, seeking to cross-check its membership list against a list of registered sex offenders in New Jersey. A similar request to MySpace resulted in more than 200 matches between the lists.
Milgram said her state's investigation began before the FBI began a nationwide manhunt for a man accused of videotaping himself raping a 3-year-old girl.
Police believe they have identified the man on that videotape; increasingly, the very anonymity being sought by sexual predators online is being shattered, said Peter Robbins, CEO of the Internet Watch Foundation (IWF).
"People believe they can chat about or share child pornography online without anyone knowing who they are and the recent arrests shatter that illusion," Robbins told the E-Commerce Times. "Society needs to demand that law enforcement efforts continue and that businesses that are benefiting from this type of behavior do their part as well."