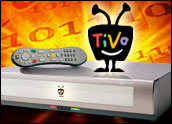 Nielsen Media Research yesterday announced that it would provide national TV audience estimates that include viewing from Digital Video Recorders (DVRs) beginning with the week of Dec. 26, 2005.
"Nielsen is keeping pace with the evolving ways that people watch television, thereby ensuring that our ratings continue to be accurate and reliable," said Sara Erichson, Nielsen's General Manager of National Services. "The introduction of audience estimates for DVR is a major milestone in ratings history and will provide the most detailed information ever on how and when people watch television."
The first national "overnight" ratings reflecting timeshifted viewing will be available to Nielsen clients on Dec. 28, 2005.
New Measurement for a New Era
Call it a new measurement for a new era of television viewing. According to the six major television networks, households with a DVR watch 5.7 hours of TV each day, compared with 5.1 hours for homes without a DVR.
Going forward, all programs and networks will now receive three separate ratings from Nielsen: Live Ratings, Live and Same Day (SD) Ratings, and Live + 7 Day Ratings. Nielsen said media reporters will be able to find all three streams of ratings at Nielsen's online Press Room.
As its name suggests, Live Ratings measure those who view programs at the time they are initially aired, excluding any DVR playback. SD Ratings measure viewers watching live programming, as well as those who played back programs on a DVR on the same day of the initial airing. Finally, Live + 7 Day Ratings measure viewers watching live broadcasts, as well as those who played back programs on a DVR within a week of the initial airing.
Nielsen said Live and Live + SD ratings will be delivered to clients concurrently on a daily basis. Data from the Live + 7 ratings will be delivered to clients two weeks following the completion of each Monday through Sunday week.
A Battle Over Data
What does all this mean for the television networks, and the advertisers that support them? That depends on whether you ask the networks or the advertisers.
John Consoli, senior editor at Mediaweek, told TechNewsWorld that the networks are trying to put the best possible face on DVR measurement while the advertising agencies are evaluating the importance of DVR viewers in determining the cost of commercials.
"The networks are going to have to work with the advertising agencies to come up with some sort of an agreement on how this new rating system is going to be measured and paid for," Consoli said. "Right now, at least a couple of agencies take the absolute position that they don't care about this DVR measurement."
Debating Commercial Viewership
Consoli said the advertisers insist that viewers will simply fast forward through the commercials. But the networks stand on a recent study they commissioned on DVR usage.
That study demonstrates 58 percent of those surveyed paid attention to the commercials as they fast forwarded and 53 percent went back and forth to watch an ad that piqued their interest.
"The networks are arguing that anybody who uses a DVR probably wasn't going to watch the show in the first place, and would have totally missed the commercials," Consoli said. "So even if the advertisers get a small segment of people who don't fast forward through the commercials, it's a bonus audience."
Nielsen is moving forward with its DVR measurements, as is Arbitron. Analysts said it remains to be seen how networks and advertisers will resolve the battle for interpreting that data.