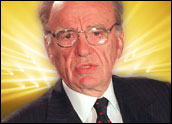 Rupert Murdoch'sNews Corp. on Wednesday unveiled My Network TV, a stripped-down, prime-time only network that will feed racy shows to the WB and UPN stations, which are set to merge.
My Network TV will be heavily promoted on the MySpace Web site, the hugely popular youth-targeted social networking site that News Corp. has purchased and plans to use as a base for a major Internet push.
No immediate plans were announced to use the MySpace property as an alternative distribution outlet for the MyNetwork TV shows, but Murdoch has made it clear in the past that he intends to make video a key feature of MySpace.
News Corp. made no attempt to hide its approach with the network, saying it would produce shows to target younger viewers between 18 and 49 years old. It will feature "tele-novel" series bearing names such as "Desire" and "Secrets," with additional shows in production that imitate successful franchises on other networks. One show in development, known as "Catwalk," will follow the search for the next supermodel. Another, "Celebrity Love Island," will also attempt to capitalize on the reality-TV zeitgeist.
The network and its shows will be "all about guilty pleasures," said Fox Television Stations President Jack Abernethy. Other programs being developed include a crime-focused news magazine and a quiz show.
Future Links?
For now, News Corp. said it intends only to use MySpace to promote the new shows.
Still, the serial-style nature of the main shows — each 13-week season of the nightly dramas will feature 65 episodes playing out various continuing story lines — may lend itself well to a Web-delivery platform.
For instance, viewers who miss an episode may, in the future, be able to fill in the gaps in the story line by downloading an on-demand version from the Internet.
One reason a Web tie-in may not be rolled out initially would be to give News Corp. time to figure out ways to reassure local affiliates — some of whom are already reeling from the decision to combine the WB and UPN networks — that they will not see further cannibalization of their advertising revenue from such an approach.
Still, the rollout is viewed as evidence that Murdoch is willing to take bold steps and try new approaches to make network television more relevant in an era when viewers enjoy a dizzying array of choices for video entertainment.
Murdoch, whose properties include the Fox channel, Fox News Corp. and a variety of newspapers, is also said to be planning the launch of a financial news channel to compete with NBC's CNBC.
Eye in the Sky
News Corp. is eyeing the Internet in other ways as well, saying recently it would invest heavily in a plan to deploy high-speed Internet access through its DirecTV franchise. Murdoch indicated the company was willing to invest as much as US$1 billion to refine and improve technology to allow for satellite links to be used for two-way Web-based communications.
The use of the "My" monicker may be misleading to some, since it could suggest an on-demand, customizable lineup rather than one that seems to target a very narrow demographic with specific tests in their television. said Jupiter Research analyst David Card.
Card also said My Network was likely taking the place of the financial channel launch. Still, it's likely that Murdoch is not done moving pieces into place — both offline and on, where MySpace is considered one of the new darlings of the Web industry.
MySpace has quickly risen to the top of the social networking niche, and Murdoch has made it clear he intends to turn it into a portal. While it will be outfitted with content from Murdoch's other properties, it will remain squarely targeted at the younger demographic. MySpace is the fourth busiest Web site in terms of total page views per month, according to ComScore Media Metrix, ahead of Google, which Murdoch has publicly proclaimed his willingness to challenge for advertising revenue.
News Corp. has in the past been linked in talks to buy Blinkx, a video and audio search engine, and was said to be mulling an offer for Skype before eBay scooped up the peer-to-peer communications provider.