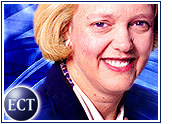 TIAS.com, a company that helps antique and collectibles dealers sell their merchandise over the Internet, announced Thursday it is launching a national chain of consignment centers that will allow people without Web access to sell their antiques and collectibles on eBay, Inc. (Nasdaq: EBAY).
The Houston, Texas-based company will photograph, caption and list items for sellers who drop them off at any of its 14 locations across the United States. The service is aimed at those who are unable to sell on eBay because they lack a computer or digital camera.
Easy eBay Access
The process allows a seller to drop off merchandise at a local consignment center, pay a "small listing fee" to TIAS.com, and then wait for the item to be sold. The seller is paid the winning bid for the item, minus a "small commission," TIAS.com said.
"eBay is the most popular online trading marketplace for buying and selling antiques and collectibles," said TIAS.com president Phillip B. Davies. "For the first time, our new consignment centers will give just about everyone easy access to this incredible marketplace."
Beginning October 6th, TIAS.com consignment centers will be open at antique malls in Arizona, California, Florida, Illinois, Kansas, Missouri, Ohio and Texas.
Many Still Not Online
While Internet use is becoming more widespread, many consumers are still not online. Nineteen percent of the U.S. population — mainly those with incomes under $15,000 (US$) a year — will still lack Internet access five years from now, according to a recent study by Jupiter Communications.
TIAS.com, started in 1995, says its hardware and software is "designed to accelerate the transfer of merchandise from the brick and mortar world to the virtual marketplace." The company's systems serve more than 45,000 unique customers each day, and list more than 270,000 items for sale.
Items are listed on the company's Web site and on eBay's Antique Mall directory.
eBay Eyes Growth
Some $1.3 billion in goods changed hands over the eBay site during the second quarter, a 108 percent jump from the first quarter. The company had 15.8 million registered users at quarter's end.
The San Jose, California-based company expects revenue of $3 billion by 2005, as it aims for a growth rate of close to 50 percent a year. eBay — one of the few Internet businesses that has been able to post a profit — currently estimates the size of its potential markets at $1.6 trillion, growing to $2 trillion in five years.
eBay has 2 percent of the U.S. collectibles market, and plans to increase that share.