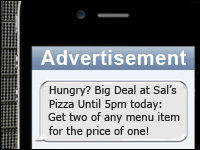 Google this week unveiled new tools designed to help businesses figure out the true worth of their mobile advertising.
The tool set, called the Full Value of Mobile, will try to help marketers see all the pathways for converting customers that mobile can offer.
"We created the Full Value of Mobile initiative to help marketers better understand how mobile is driving value for their business across mobile sites, apps, calls, in-store and cross-device," Joanna Werther, head of mobile ads marketing for Google, told the E-Commerce Times. "Many marketers know that these different paths drive value, but haven't been able to attribute that value because it's traditionally been difficult to measure," Werther said. "We built these tools to be relevant for everyone from the biggest brands to the smallest corner shop, and hope that it will help them begin to investigate mobile's full impact online and offline."
Google's move to assist marketers follows in Yelp's footsteps. The mobile review app on Monday introduced its Revenue Estimation Tool for Local Businesses, which offers similar insight into ROI.
Plugging In Numbers
Marketers can go to the site howtogomo.com to access the tools and resources, which include an ROI calculator, case studies, and tips for measurement. In keeping with Google style, it also introduces the tool with a video that offers examples of each conversion path.
"I see it as a small and medium business pitch," Chris Silva, industry analyst at the Altimeter Group told the E-Commerce Times. "Especially the video, the marketing they did around it. They're trying to use traditional marketing channels to reach marketers, maybe large brands and agencies, to spur this forward."
While this tool is accessible to agencies and brands, "this is largely aimed at the self-serve crowd," Silva added.
On the tool site, marketers can upload a Click Type Report with data points, or get answers to questions such as "How many people clicked 'Get Directions' from your mobile search ads?" The calculator offers up the value proposition of mobile for bringing in customers.
Marketer Meter
The tool may indeed be aimed at those businesses that want to take a do-it-yourself approach to mobile marketing, but it may not help those that make up a sizable portion of local economies.
"This tool won't particularly help most small businesses," Greg Sterling, principal analyst at Sterling Market Research told the E-Commerce Times. "It's really designed to help professional marketers and agencies understand how to calculate mobile ROI and think more broadly and creatively about the impact of mobile on conversions in a new, multi-screen consumer environment."
"I think of it a little more for Google providing a business case for why mobile is more valuable, rather than a specific tool," said Silva. "Google is using the use case instead of the tools for the lead."
The Full Value of Mobile tries to educate marketers about the potential in mobile ads. "It's some examples of use cases that will get marketers to do things unique to mobile," he said.
An example cited involves a florist who might provide directions or a click-to-call button to reach the store during business hours, but could also direct mobile visitors to a website if they call in the evening after the store has closed.
Case studies and a calculator tool can help businesses that may not have considered mobile marketing think seriously about making an attempt, Dr. Augustine Fou with the Marketing Science Consulting Group told the E-Commerce Times. "Those are really great features that I think are going to significantly help local businesses and small businesses."