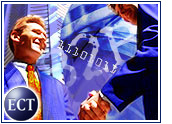 PurchasePro (Nasdaq: PPRO) rose 1to 14 7/8 Wednesday after the company announced a new chief operating officer.
PurchasePro, a Las Vegas, Nevada-based operator of business-to-business(B2B) online marketplaces, said Shawn McGhee will take over the COO dutiesfrom Christopher P. Carton. Carton, one of the company's founders, will remainpresident and a director, PurchasePro said.
McGhee comes to PurchasePro from Office Depot, Inc. (NYSE: ODP), where aspresident of North American operations, he led the company's e-commerceinitiative and managed its US$4 billion supply chain. Before joining officeDepot in 1997, McGhee, 37, spent 10 years at AutoZone.
Chairman and chief executive officer Charles Johnson Jr. said McGhee is oneof the company's "most strategic hires."
"His vast experience in building an employee and technical infrastructure,coupled with his management experience and talents in guiding Office Depot'sInternet initiative, will play a vital role in continuing our company'sbuilding process," Johnson said.
Lehman Brothers analysts repeated a buy recommendation on PurchasePro afterthe announcement, calling the company's new operating chief "top-notch."
"We view this as a strong hire for PurchasePro and think it bodes well forthe stock," the analysts said. "McGhee's management experience at Office Depot andAutoZone makes him well suited to manage the blazing growth" at PurchasePro,the firm said.
PurchasePro reported a loss before charges of $4.7 million, or 7 cents pershare, for the third quarter, on revenue of $17.3 million. The companyexpects to turn a profit in the fourth quarter.
While PurchasePro shares are below their 52-week high of 82 1/2, set lastDecember, the stock has rebounded from the single digits it saw last spring.