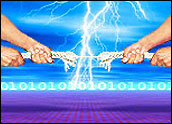 Network Associates (NA) shares tumbled Wednesday, dropping more than 20 percent to US$19, as the security company withdrew its $224 million offer to purchase the 25 percent of McAfee.com it does not already own.
NA canceled the offer, which it made in early April, after a check of its books during a tax filing found accounting errors that might compel the company to restate its 1999 and 2000 financial results. The company noted that it believes only those two years' earnings will be affected.
Under terms of the proposed purchase, McAfee shareholders would have received 0.78 of a share of Network Associates common stock for each Class A share of McAfee.
The company said it called off the offer, which was set to expire Thursday, because it believes McAfee shareholders deserve full disclosure.
Fallout Hits McAfee
In a conference call, McAfee CEO Srivats Sampath told analysts that Network Associates' withdrawal "in a nutshellmeansnothing," and that day-to-day operations will not be affected.
But the "no-go" already has had some effect. McAfee's shares dropped precipitously when news of the deal's demise became public, falling by 26 percent to $13.67.
Upbeat Q1 for NA
Network Associates ended the first quarter of 2002 on March 31st on an upbeat note, with consolidated net revenue of $220.7 million and net earnings of $15.8 million, or 10 cents per share.
At the time, NA chairman and CEO George Samenuk said, "Our focus is paying off, and customers are voting with their dollars. We've made a lot of progress and are aggressively moving forward toward the billion-dollar threshold and beyond."
Questions Hound Firm
But questions regarding its accounting practices continue to hound the company.
Network Associates' books are already under scrutiny by the U.S. Securities and Exchange Commission, and the company has been downgraded by some analysts as a result.
The ongoing SEC investigation centers on the company's year 2000 practice of booking revenue when products were shipped to distributors, rather than when customers actually bought the products.
The company has launched its own internal investigation of the latest accounting errors.