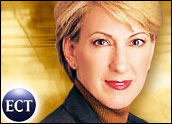 NetObjects, Inc. (Nasdaq: NETO) lost 3/8 to 2 1/8 Friday after the maker of Internet-based software missed analysts' estimates for the fourth quarter ended September 30th, reporting a wider loss and lower revenue.
The Redwood City, California-based provider of online business software and services said revenue for the quarter fell to $5.4 million from $5.8 million in the same period last year. The net loss widened to $12.4 million, or 39 cents per share, from $4.2 million, or 17 cents. Analysts were looking for a per-share loss of 16 cents.
The company attributed the drop in revenue to a change in the way it licenses its Fusion and Matrix software. Instead of large one-time fees, the company is moving to lower up-front licensing fees and ongoing subscription fees.
"The Internet software industry is going through a tremendous transformation, and NetObjects is forging ahead with a new strategic direction," said chairman and chief executive officer Samir Arora. "Fiscal year 2000 has been a year of growth and change, and we are ending it with the launch of our new online business-to-business strategy."
During the quarter, NetObjects signed distribution agreements with computer makers IBM and Dell, as well as with communications companies EarthLink and Deutsche Telekom/T-Online, and hosting company Concentric.
Also during the quarter, the company acquired Rocktide, Inc., maker of the Matrix online service products, and announced plans to acquire MyComputer.com, which provides online services for small businesses.
NetObjects, which went public in May 1999 at 13, is down from a 52-week high of 45 11/16. IBM is a major shareholder in the company.