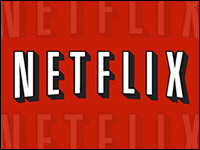 Netflix cracked under pressure and regrouped its business into a single service offering that includes both streaming content and mailed DVDs. The company announced on Monday it will not split off its DVD-by-mail service under the name "Qwikster," as planned.
Instead, U.S. customers will continue to use one website, one account and one password.
Netflix shares rose 10 percent on the announcement, though the rise cooled to 3 percent by midday Monday.
Although Netflix has stepped back from spinning off its DVD service, the unpopular new pricing plan announced several months ago remains in place. Netflix ran into a nasty brick wall when it announced a major price increase in July, going from US$9.99 a month to $15.98 per month for unlimited streaming and one DVD-by-mail at a time.
Many customers beat a hasty retreat, forcing Netflix to cut its subscriber forecast.
Staggering from the backlash, Netflix issued an apology to customers for its handling of the change — but then announced it would split its streaming and DVD rental services in September, causing further ire.
The tripple whammy sent stock prices down 40 percent.
Although Netflix is now demonstrating some responsiveness to customer concerns, questions remain about whether it has done enough to recover from its mistakes — particularly since the steep price increase remains in place.
Netflix did not respond to the E-Commerce Times' request for comments by press time.
Screams From Investors and Customers
Netflix may have made some headway in reversing the damage to its investor and customer relationships.
"CEO Reed Hastings proposed a split and customers didn't like it," Carl Howe, director of anywhere consumer research at the Yankee Group, told the E-Commerce Times. "To his credit, he was willing to change direction based on customer feedback, and that's what we see in today's decision."
Hastings was smart to try to split the businesses since they are so different in character, Howe noted.
"The DVD business is highly dependent on factors such as the U.S. Postal Service and labor rates for the people who mail and process DVDs," he explained. "The streaming business is dependent more on broadband adoption and bandwidth. In fact, the only thing that the two businesses have in common is the content licensing fees. Yet even there, the fees are different for the two businesses."
Good Solution . . . for Now
The Netflix reversal is an unusual move. First, the company had to admit it made a mistake. Companies tend to go on the defensive and look for ways to defend their blunders (New Coke).
"The decision to split the company was boneheaded, and Reed Hastings thought better of it," Roger Kay, founder and principal of Endpoint Technologies, told the E-Commerce Times. "The market has responded positively, and customers will respond positively as well."
A couple of questions remain. Will customers come back if the price hike stays in place? Will the reversal bolster Netflix for the long run, or is there a fatal flaw in its business model?
"Whether this helps Netflix long-term is hard to say, but it is better off as one company rather than two," said Kay.
Right CEO? Right Business Model?
The long-run questions will likely continue to haunt Netflix. Even if its reversal on splitting the company looks like a smart short-term move, it shines a light on fissures in the company's decision processes.
"Obviously, they were freaking out by the drop in market value. Plus, they've had a number of subscribers drop their service," Zeus Kerravala, senior vice president for global enterprise and consumer research at the Yankee Group, told the E-Commerce Times.
"The split was unpopular, but to make such a quick decision to retract it shows that either the company didn't do its homework initially or the CEO simply ignored the numbers. I don't know how they came to the decision it was a good idea," he wondered.
The move calls into question whether Hastings is the right CEO for Netflix.
"Clearly, investors don't believe he is," said Kerravala. "Netflix is obviously not sure what to do with the business. The retraction is a good short-term solution — but long term, they have some work to do."
The business model itself may be the problem. In the few short years since Netflix boomed, a host of new content sources have popped up.
"There are so many places to get content now," said Kerravala. There are on-demand services, and the kids are going to iTunes, Hulu, Megavideo and even YouTube to some extent."