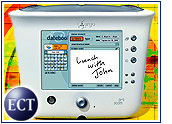 Five months after unveiling one of the Internet's first home appliances, 3Com said Wednesday that it will discontinue offering its Web-surfing "nerve center for the home," dubbed "Audrey," in an effort to cut costs and reach profitability.
3Com said it hopes to cut US$1 billion out of its operating costs by the end of its upcoming fiscal year. The company said it is also putting a halt to the production of its Internet radio, called "Kerbango," and will disband its entire Internet appliance division altogether.
IDC consumer devices analyst Bryan Ma told the E-Commerce Times that "it hasn't been apparent" that products such as Audrey will bring enough value to a consumer to justify their expense.
"It's an increasingly difficult market, especially for the hardware where margins are going to be slim to begin with, and the product investment is at such a high level because of the high costs of product design, marketing and deployment," Ma said.
Audrey offered one-touch access to e-mail, Web channels, a household calendar, address book, and Palm HotSync technology. The small TV-like box included a touch screen and wireless keyboard, built around a customizable Internet channel system accessed by turning a selector knob. As the dial was turned, preferred Internet channels scrolled across the bottom of the screen as if on a filmstrip.
Consumer Confusion
Ma said the Internet appliance market suffers from consumer confusion about what an Internet appliance is and how it differs from a personal computer. However, according to Ma, 3Com seemed to be on the right track with Audrey.
"3Com had the right idea with their marketing messages — they positioned it as a family organizer rather then trying to compete with the PC," Ma said. "It's unfortunate that 3Com, who could have shown the right way to success in this market, had to pull out of the market."
My Unfair Lady
Ultimately, Audrey's withdrawal from the market had more to do with 3Com's profitability woes than the lagging marketplace for Internet appliances. For the first nine months of the fiscal year, 3Com lost $447.6 million, or $1.29 a share, versus a profit of $821.1 million, or $2.31 a share, a year earlier.
"They needed to get profitable right away," Ma said. "This kind of a product is much more of a long term investment — it didn't make sense for them continue this right now. With tight, difficult capital markets where investors have a distaste for investments that don't make money right away, there's more pressure on these companies to get out (of the appliance market)."
Performance Anxiety
As the Internet appliance sector battles a lack of customer demand and early market dropouts, questions are naturally being raised as to how long it will take for the industry to fulfill its early promise.
Previously, research firm Cahners In-Stat projected that the five-year growth rate for total worldwide line-powered Internet appliances to be 73 percent. Also, a 2000 report released by IDC predicted that the worldwide market for information appliances will reach $17.8 billion in 2004, up from $2.4 billion in 1999.
"The market got really crowded really fast, and now we're seeing the result of that," Ma said. "There will be a lot of shakedown. I would expect [this market] to be challenging moving forward."