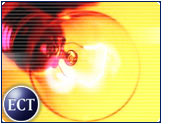 With an eye toward further integrating e-commerce into the everyday routines of consumers, 3Com Corporation released an Internet appliance Tuesday for the "nerve center" of the home.
The device, dubbed "Audrey," offers one-touch access to e-mail, Web channels, a household calendar, address book, and Palm HotSync technology.
New channels will regularly become available as e-commerce partners sign up with 3Com to offer content. Channels that may soon be offered include Beauty.com, Drugstore.com, Groceryworks.com, Peapod and Wine.com.
Ergo, I Am
Audrey, the first in 3Com's new Ergo line of lifestyle-centered Net appliances, is built around a customizable Internet channel system accessed by turning a selector knob. As the dial is turned, preferred Internet channels scroll across the bottom of the screen as if on a filmstrip.
Audrey comes with five pre-set basic channels: ABCNEWS.com, AccuWeather.com, ESPN.com, CBS MarketWatch.com and Mr. Showbiz.
Users can customize the channels to meet personal information needs, such as local weather information and stock quotes. In addition to the basic channels, consumers can also select six additional channels from a list of lifestyle-oriented Internet content and e-commerce providers.
Not a PC Replacement
Audrey users can create color-coded household calendars by synchronizing the entries from more than one individual Palm date book. Also, household members can leave messages for each other by using a stylus to scribble a handwritten message or by typing or speaking e-mail messages.
Ray Winninger, Director of Product of Development for 3Com's Internet Appliance Division, told the E-Commerce Times that Audrey is geared toward the more experienced Internet user.
"Audrey is not a low-cost replacement for a PC," Winninger said. "It's a supplement to extend the power of your PC by offering more convenient access to the Internet services you already use."
New Avenues for E-Commerce
Winninger also noted that 3Com is hoping Audrey will allow its e-commerce partners to target consumer spontaneity.
"One of the big holes in e-commerce that people wish for is buying things on impulse or spontaneously," Winninger said. "Audrey offers e-commerce vendors the ability to tap into the spontaneous nature of Internet interaction."
Winninger also said that Audrey is likely to have an impact in the online banking and grocery shopping markets.
"In our e-commerce analysis, we found that both industries were signing up consumers in droves, but customers were leaving as fast as they were signing up," Winninger said. "The main reasons were the lack of a simple interface and usability issues. People loved the idea, but sitting down at the interface to input a grocery order was intimidating."
High Growth Expected for Net Appliances
According to Cahners In-Stat, the five-year growth rate for total worldwide line-powered Internet appliances will be 73 percent.
Audrey is available in the United States for an estimated retail price of $499 (US$). According to Winninger, future plans include integration with broadband technologies, as well as a transition to becoming fully wireless.
Audrey's capabilities are also expected to eventually enable e-commerce partners to "talk" to each other, giving them the ability to integrate services and target mutual customers.