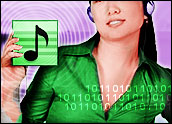 United Kingdom-based music act managers are seeking to pressure Apple on royalty payments, saying too little of the proceeds from each song download is actually reaching the artists that created the songs.
Members of the UK chapter of the Music Managers Forum met today to launch a public awareness campaign aimed at getting a larger share of each song sale for their artists. Though the group said royalties are similar at other digital download sites, targeting iTunes makes sense because it controls the lion's share of the market and is seen as an industry bellwether.
Unprepared for Digital Explosion
The Music Managers Forum said that artists receive the equivalent of about 6 cents for each downloaded song, around 6 percent of the total 99 cent sale price. When CD singles are sold for just over US$3, however, artists usually receive closer to 12 percent of the total sticker price.
The problem arose, the group said, because record labels did not adequately prepare for the arrival of widespread digital downloads and chose to hand over pricing decisions to retailers that licensed their music. With prices set at less than a dollar and licensing fees eating up an unknown fraction, sites such as the iTunes Music Store have little room left for profit margin.
The royalty row is just the latest flare-up in the battle over digital music. While record labels have come to love the medium lately as it continues rapid growth and exposes more consumers to a wider range of music, musical artists in general have had mixed feelings about digital downloads.
That dichotomy dates back to the original Napster and the beginnings of underground file-swapping, with many artists coming out in opposition to the practice while others embraced it as a way to gain new listeners who would buy more music and attend more live concerts — where many musical acts make the bulk of their income.
Growing Problem
Attempts to reach both Apple and the U.S. arm of the United Music Managers were not immediately successful.
Though they began with a rocky relationship — with some record executives decrying the decision by Apple to sell songs for 99 cents each — the recording industry has grown to love iTunes and other digital download sites for what they have done for the music industry as a whole.
In fact, the managers discussed their next month on the same day that the IFPI, the worldwide association of music labels, announced that music sales fell again in the first half of 2005, but that digital sales tripled, helping to minimize the losses.
That growth may lend a sense of urgency to the debate over royalties, since it's likely that as digital music moves into the mainstream, whatever practice is in place for paying artists will likely become increasingly difficult to change, especially as digital music sites gain more market share and more pricing power. Currently, digital downloads make up about 6 percent of all worldwide music sales, according to the IFPI.
Rising Tide, Battling Ships
It's easy to imagine the dispute ending up in legal battles, but analysts say given the stakes involved, it's likely all sides will seek to avoid a drawn-out drama.
"No one wants to give away money, but no one wants to kill the golden goose here either," said Yankee Group analyst Michael Goodman. "Digital music is something that has proven good for the music industry as a whole."
That in turn means it's good for individual artists, many of whom can have their music found for sale online easier than in stores, which have limits on how many CDs they can carry or display. Meanwhile, record labels that are just beginning to reap the benefits of digital music may be reluctant to see prices boosted in order to accommodate higher artist royalties.
With those dynamics in place, it's likely that cooler heads will prevail in the long run, Goodman said.