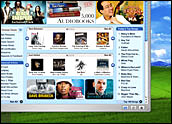 Sales of digital music soared during the first half of 2005, nearly tripling over 2004 levels, but weren't quite robust enough to help the music industry see overall growth, according to sales figures from international music trade group IFPI.
Worldwide, music sales for the first six months of this year were US$13.2 billion, a 1.9 percent decrease over the $13.4 billion worth of sales during the same period of 2004. Physical sales — CDs primarily — fell more than 6.3 percent to $12.4 billion.
But in what could be good news for an industry that has long blamed digital piracy for at least part of its recent woes, digital music sales continued to expand rapidly, rising to an estimated $790 million during the first half of this year, up from $220 million last year. Digital sales now make up about 6 percent of all music sales.
"The digital music boom is continuing and it is growing at an exciting pace for the music industry, for online retailers and for consumers," said IFPI Chairman and CEO John Kennedy. "More and more people in a growing number of countries are turning to the new legal ways of downloading music on the Internet or via mobile phones."
The digital sales figures include both pay-per-download and subscription revenue. The group said in addition to the rapid rise of broadband adoption, such sales are accelerating thanks to wider use of faster mobile networks and a rise in the use of cell phones for downloading and playing music.
Spreading the Wealth
The group said that digital music's future growth outlook is particularly robust, since the vast majority of current sales come from the top five markets — the U.S., Japan, UK, Germany and France.
Kennedy said the rising digital sales combined with gains made against Internet piracy bode well for the music industry, despite a lengthy period of stagnant or slowing sales. He said educational outreach efforts as well as legal action against file-swappers is proving effective. Some recent reports have disputed that assertion, suggesting that file-sharing traffic is keeping ahead of lawsuits and law enforcement by moving further underground, shunning high-profile peer-to-peer networks for more clandestine options.
"There is a long way to go — digital and physical piracy remain a big threat to our business in many markets," Kennedy added. "Our industry's priorities are to further grow this emerging digital music business while stepping up our efforts to protect it from copyright theft."
The group noted that prices fell on CDs in many markets, helping to keep sales growth in check, and blamed the vagaries of the music release schedule, with few blockbusters hitting music stores in the first half of the year.
Looking Ahead
Meanwhile, music and movie studios continue to press on piracy. Last week, the IFPI and the Motion Picture Association of America released software designed to detect and delete pirated music and peer-to-peer software from machines. The technology is being aimed at parents and business owners concerned that their computers and network connections are being used for illegal purposes.
Forrester Research analyst Josh Bernoff said piracy unquestionably contributed to the music industry's five-year decline in sales, but added that the industry has moved beyond denying the threat of the digital medium to accepting it for what it is — an opportunity.
Bernoff said the music studios were guilty of "monoculture thinking — deriving all revenues from a single source." That in turn led to inflexibility in the face of change and left music vulnerable to disruptive technologies.
Bernoff said other industries can learn from what the music industry went through to be more nimble and ready to change. He said the newspaper industry is an example of one that would be well-served to heed the lessons of the record labels.
While IFPI did not issue a forecast, it did point to major releases for the second half of 2005 that could help lift sales. Meanwhile, eMarketer analyst Ben Macklin said there's little doubt that a range of consumers are now "prepared to pay for music online," with the proliferation of download sites offering choice and price competition.
eMarketer predicted the market for digital music will be a $1 billion market within two years in the U.S. alone.
"All factors are leading to more growth for digital music," he said, citing growing broadband usage, the continued threat of lawsuits for illegal swapping and increasingly robust online music services.