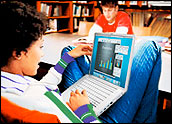 The associations representing movie studios and music labels are warning some 40 college presidents that their students are using their high-powered networks to steal copyrighted entertainment and urging them to take "immediate action."
The Recording Industry Association of America (RIAA) and the Motion Picture Association of America (MPAA) said they had sent letters to 40 university presidents in 25 states. The letters inform them that their local area networks, or LANs, are being used to download material without authorization from copyright holders.
A New Battle
The warnings represent a new front in the war the studios have long waged on piracy because it does not involve the Internet, but rather peer-to-peer sharing on closed, secure networks established to let students connect to one another and their coursework.
The groups say students are starting to turn in larger numbers to new programs, such as Direct Connect, MyTunes and OurTunes — which the groups call "well-known hacks of the iTunes music store — to swap music and movies across LANs without ever accessing the public Internet.
They say students are emboldened to engage in file-sharing they would not conduct online because of fear of being caught.
"We are appreciative of our partners in the university community and all they have done in recent years to tackle the problem of digital piracy at campuses across the country," RIAA President Cary Sherman said. "Despite the progress achieved by our collaborative efforts, this remains an ever-evolving problem."
The LANs are considered ideal swapping grounds by some because they generally have very high bandwidths and offer a faster way of exchanging large files than using the Internet.
Delta Delta Download
The groups did not say what colleges were warned of the activity, but said they are located in 25 states, including California, Massachusetts, Maryland, Maine, New Hampshire, New Jersey, New York, Pennsylvania and Washington, D.C.
The letters encourage administrators to review their computer network usage and take steps to prevent theft by installing blocking and filtering devices or by toughening policies on network use.
The studios have targeted LAN use in the past, suing four college network administrators early in 2003. Shortly afterwards, about a dozen campuses limited access to LANs where swapping was taking place.
"Campus LAN piracy is not new, yet the problem has taken on new urgency," Sherman said. "We know from past experience that bringing this problem to light can effect real change. We are hopeful that this new systematic program will yield even more positive results."
The groups did not quantify the amount of swapping taking place on the networks or what the losses to their respective industries might be, but did acknowledge that peer-to-peer Web-based swapping remains the most prevalent type of illegal music and movie sharing.
The RIAA estimates that it loses more than US$300 million yearly to music piracy and a recent study by Informa Media Group said online file sharing costs the movie industry more than $850 million in lost sales.
MPAA Chairman and CEO Dan Glickman said the groups are "working hard" to "stay on top of emerging trends in intellectual property theft."
Ivy Covered LANs
If past practice is any indication, the warnings are likely a prelude to additional legal action by the two associations, which have kept up their pressure on individual file-swappers as well.
By reducing illegal sharing on campus, the groups can cut access to free music for hundreds of individual swappers in each case, Yankee Group analyst Michael Goodman noted.
"People dedicated to committing piracy are going to find ways to do it," Goodman told the E-Commerce Times. However, more casual music fans are likely to be more cautious if they know that campus LANs are being targeted. "Lawsuits and other action by the RIAA serve to remind people that this is illegal activity and that they are being watched."
Indeed, the warnings are a reminder that the two groups have no intention of letting up in their legal efforts to curtail illegal downloading of music, even as legitimate music downloads continue to grow rapidly.
While suffering their share of public relations black eyes along the way, the studios have scored some major victories, most notably when they forced the shutdown of the Grokster peer-to-peer service last November, a move that came after legal rulings found that Grokster could be held responsible for illegal swapping being done on its network, even if its technology had other uses.