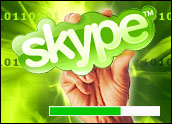 Will Skype give Microsoft street cred in social networking? At Web 2.0 on Tuesday, Microsoft CEO Steve Ballmer discussed the company's current and future projects. He touched on Windows Phone, Microsoft Office, Xbox Live, Bing and the recent go-ahead on its Skype acquisition, the buy he characterized as the company's stake in the social networking market.
Ballmer stressed connectivity between people and technology, calling Skype a powerful tool for communication in the future: "The acquisition of Skype is a big step down a path that is all about connecting you with other people."
Skype is one of Microsoft's major social features, Ballmer said, pointing to Skype's and Bing's partnerships with Facebook.
Further, he suggested that Skype will take social networking a step beyond Facebook. "Skype actually is more about helping you connect with the people who you are very closest to, as opposed to people who you generally want to socialize with."
Skype is another key tool in Microsoft's social connectivity banner, which includes networking between Office products and the cloud, Ballmer emphasized. "So I think there are a variety of different things that all fall under this social banner, and we've picked our play. We're adding what I would call 'connectivity' to our core products."
Betting the Future on Social Media
While Ballmer sees Skype as Microsoft's big entry into social networking, it is not clear that Skype alone will bring Redmond into the arena. True, Skype is integrated with Facebook — but that doesn't mean Ballmer gets to sit at the lunch table with the cool kids.
"The real question is whether Skype is sufficient for Microsoft to stake its claim in social networking," Allen Nogee, principal analyst for wireless technology at In-Stat, told the E-Commerce Times. "Certainly, the technology behind VoIP doesn't require Skype, but it is related to it."
Even if Skype doesn't instantly make Microsoft a social media heavyweight, it shows that the software giant is serious about the market. More than serious, maybe.
"I think Microsoft is more than dabbling in social media. Microsoft is betting its future on it," said Nogee. "I don't think Skype really makes Microsoft a player in social networking, but Skype has a foothold in the mobile VoIP area, and it has millions of customers that use its services, so Microsoft is hoping to build upon that to its advantage."
Given the very competitive stakes, each smartphone OS manufacturer is trying its best to set itself apart from the field, observed Nogee. Skype may be Microsoft's move, especially combined with the company's ties to gaming.
"Microsoft, with its connection to the gaming and the Xbox, has made the smart move to focus on the social aspects of a smartphone," he said. "Microsoft feels that this younger demographic is the route to success. Skype, in some ways, is Microsoft's means to enable another aspect of social interaction."
Trying to Shake Windows
Microsoft has stumbled in the mobile market, especially when the company tried to drag its signature Windows OS off the desktop.
"With its first versions of its mobile OS, Microsoft tried to leverage its Windows heritage to the smartphone, and that was a large failure," said Nogee. "Not only was Windows not 'cool,' but people wanted to escape with their smartphones, and Windows was just extension of the PCs everyone used at work."
Apple's great success in mobile convinced Microsoft that Windows wasn't the way to go, Nogee pointed out. "Instead, Microsoft grabbed onto the social aspects of a smartphone. With Google and Apple stealing most of the market, Microsoft realizes that this may be its last chance to succeed."
Not Yet Good Enough
Skype could be a social networking winner once it's really ready for prime time, but it may need some tinkering to get there.
"Skype is a strong enough platform to become their social play, but the functionality isn't there yet," Zeus Kerravala, principal analyst with ZK Research, told the E-Commerce Times. "It has a few social capabilities, but it's really a chat and voice tool. Microsoft will need to put some research and development dollars into Skype. It needs email integration and data posting capabilities."
Skype is a good real-time tool, but it is still not an asynchronous one, which is a significant drawback, Kerravala noted. "Because of that, I think Microsoft is dabbling in social with the goal to be big. They still have a long way to go."