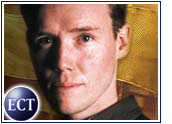 MP3.com (Nasdaq: MPPP) was at US$5.44 early Thursday, up 47 cents, after the Internet music provider reported a smaller loss for the fourth quarter ended December 31st.
MP3.com chief executive officer Michael Robertson said the company is poised for growth.
"As we move into 2001, we continue to advance on many fronts — brand recognition, traffic, content, technology and infrastructure," Robertson said.
Revenue for the quarter totaled $22.0 million, up 44 percent from a year earlier, while the loss before extraordinary items narrowed to $3.1 million, or 5 cents per fully diluted share, from $10.6 million, or 17 cents, a year earlier.
After all charges, the San Diego, California-based company posted a loss of $35.6 million, or 54 cents per share, compared with a loss of $14.9 million, or 23 cents, in the 1999 fourth quarter.
MP3.com said it offered music from more than 125,000 artists by the end of the recently completed quarter, up 25 percent from three months earlier and 176 percent from a year earlier. The company added an average of more than 1,500 new audio files to its Web site each day, bringing the total to approximately 800,000 at quarter's end.
Traffic rose to 750,000 average daily visitors in the fourth quarter from 602,000 in the third.
New products and services developed during the quarter — including on-demand Internet subscription channels, business music services and content management services — will help the company grow, according to Robertson.
"Since all music for both consumers and businesses will eventually be transported digitally, this makes possible a wide range of products," Robertson said. "The diversity of revenue sources from those products is what we believe provides a foundation for a profitable long-term business with solid growth prospects."