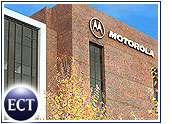 Motorola (NYSE: MOT) rose 22 U.S. cents to $15.90 in morning trading Friday after the company said that it plans to cut approximately 4,000 jobs in its networks businesses.
The Schaumburg, Illinois semiconductor maker said that it expects charges tofirst- and second-quarter earnings to cover the layoffs, which will affect Motorola's commercial, telecommunications and broadband sectors.
"Motorola is making tough but deliberate and strategic business decisions inorder to remain competitive in the slowing economy," said Edward Breen, president of the company's networks sector.
Breen added: "Unfortunately, reductions have beennecessary for us to improve financial performance, and this is something that we will have to continually evaluate as we monitor market and economic conditions."
Workers to be laid off will be cut or informed about their status by the end of the second quarter,Motorola said.
Motorola has been dealing with a slowdown in business through job cuts,asset sales and other measures. Since December, the company has announced plans to eliminate22,000 jobs from its 147,000-person workforce.
In January, the company eliminated 2,500 jobsas it closed a manufacturing plant in Harvard, Illinois.
This month, Motorola said that it would cut 7,000 jobsfrom its PCS division over the next two quarters.
The company has also said that it expects sales and earnings for the firstquarter ending this month to be hurt by "significant weakness" in ordersacross all business lines, as the economic slowdown in the UnitedStates puts pressure on results.
Motorola rivals Nokia and Ericsson have also seen demand for their productsfall. Earlier this year, Ericsson announced plans to stop makingtelephone handsets, outsourcing production in order to save costs.