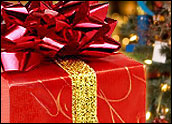 Despite a slow start to this year's online holiday season, a pair of new reports suggeststhat online sales could top last year's level by 100 percent.
E-tailers "have reason to be hopeful," according to consulting firm PricewaterhouseCoopers, which predicts fourth-quarter e-commerce will reach US$10.2 billion, up from $5.2 billion in the same period last year.
Eighty-five percent of Internet users surveyed plan to shop online forgifts this year, up from 67 percent last year.
"What is most encouraging for e-retailers is that a large percentage ofthese holiday shoppers expect to make a purchase online," said Mary BrettWhitfield, director of the firm's E-Retail Intelligence System.
Goldman Also Sees Gains
Separately, a survey conducted by Goldman Sachs and PC Data Online foundthat more consumers plan to buy online this year, and veteran buyers intendto spend more this year than last.
"Early indications point to aggregate online spending this holiday quarter[of] 1.5 to 2 times the levels last year," wrote Goldman Sachs analystAnthony Noto in a report Wednesday.
Given the shrinking number of e-tailers this year, "the leading e-commercecompanies should garner a larger percentage of the online shopping pie,"Noto continued.
More than half of Internet users surveyed in early November said they hadalready begun shopping for holiday gifts, and nearly 8 of 10 had madepurchases, according to the PricewaterhouseCoopers survey. Forty-fivepercent of all holiday shoppers, and 20 percent of all Internet users, hadpurchased gifts online.
Converting Shoppers into Buyers
"Even though most of Internet users' holiday shopping and purchasingactivity so far has taken place at stores, online retailers have been ableto convert early holiday online shoppers into buyers,"PricewaterhouseCoopers said. "On average, online holiday shoppers have done27 percent of their shopping online and 25 percent of their purchasing online — almost a one-to-one ratio."
However, Whitfield warned that companies need to stay on top to maintain momentum.
"Online shoppers will be looking for lower prices than they can find instores, easy transaction processes and on-time deliveries," Whitfield said. "Thenext few weeks will reveal whether or not online retailers have done theirholiday homework and are up to the task."
Keeping 'Em Happy
Goldman's Noto had a similar message. "Customer satisfaction not onlyaffects an e-commerce site's ability to convert someone to a buyer, but alsoimpacts future sales," he wrote.
More than half the people in the Goldmansurvey said they visited a particular shopping site because they knew aboutit based on prior experience.
"Clearly, if those experiences aredeficient, shoppers will go elsewhere," Noto wrote.
Spending More
Eighty-eight percent of participants in the Goldman survey said they plan tospend the same or more on holiday gifts as last year, and 78percent said they are likely to buy online again. Twenty percent said theirexperience with Internet shopping this year was better than last year, and35 percent said it was the same. The rest had not begun their shopping.
The PricewaterhouseCoopers report was based on surveys of about 500 Internetusers between September 21st and 28th and October 26th and November 3rd.
The Goldmansurvey was sent to 5,000 online households during the week of November 5th,and is based on responses from 2,340 participants.