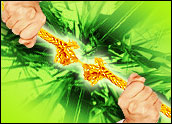 The notion of a smartphone kill switch has received considerable attention in recent months, but new research spells out in plain financial terms some fresh arguments in favor of the idea.
A kill switch essentially is technology built into a smartphone that would allow it to be deactivated if it were lost or stolen, thereby safeguarding the legitimate owner's data while also preventing unauthorized charges. Consumers overwhelmingly support the kill-switch concept for the protection it would provide for potential victims of theft.
It turns out they also could save US$2.6 billion annually if such technology were made mandatory on all phones, according to a study published earlier this week by William Duckworth, a professor at Creighton University Heider College of Business.
A full 99 percent of 1,200 smartphone owners surveyed by Duckworth said wireless carriers should give all consumers the option to disable a stolen cellphone. Eighty-three percent believed a kill switch would reduce cellphone theft, and 93 percent believed Americans should not be expected to pay extra fees for the capability.
'Americans Want the Kill Switch'
The overwhelming level of consumer support was "one of the bigger surprises" of the study, Duckworth told the E-Commerce Times. "I think I would have guessed it would be a majority, maybe 60 to 70 percent. But the fact that 99 to 1 are saying they want a kill switch says a lot about how aware consumers are of the danger if a phone gets stolen."
Consumers could save about $580 million a year by not needing to replace stolen phones and another $2 billion a year by switching from premium cellphone insurance to more basic coverage offered by third parties; the combined result amounts to about $2.6 billion annually, he reported.
"Overall, it seems clear that Americans want the kill switch and that an industry-wide implementation of the technology could significantly improve public safety and save consumers billions of dollars a year," Duckworth said.
1.6 Million Phones Stolen
Smartphone theft is a growing problem, and it's often accompanied by violence. Some 1.6 million phones were stolen in the United States in 2012, Consumer Reports found.
The kill switch concept is part of the Secure Our Smartphones Initiative proposed last year. Since then, however, there's been debate about the technology's potential for abuse.
Meanwhile, California state Sen. Mark Leno and San Francisco District Attorney George Gascon in February announced a bill that would require all smartphones and devices sold in California to have a kill switch starting Jan. 1, 2015.
CTIA, the wireless industry association, has opposed such efforts, in part because of what it considers a potential for hacking.
'I'd Expect There to Be a Partnership'
"The fact that a lot of money is at stake is certainly one thing that can't help to motivate at least some of their resistance," Duckworth suggested.
As for the hacking possibility, "I can't imagine it would be a big problem," he added. "I'd expect there to be a partnership, where there's some password or code phrase you'd have to use to prove it's you if you call to kill your phone."
CTIA did not respond to our request to comment for this story.
Since publishing his study, meanwhile, Duckworth said he's been contacted by other researchers suggesting that the numbers in his study were on the low side.
"It seems like the problem numerically might be even bigger," he noted. "With a problem that big, it seems like we should try some sort of solution, with care."
'There Can Be Middle Ground'
A permanent kill switch represents some risk, but smartphone users also can be hurt in ways that might be even more expensive than having their phones bricked — such as if a hacker were to use their phone to rack up charges or to send malicious messages to their employers, Ross Rubin, principal analyst with Reticle Research, told the E-Commerce Times.
"Clearly, there can be some middle ground," he added. For example, "there are ways to deactivate a phone and require a user to have the burden of proof to get the phone activated again."
Moreover, "one of the things making this less of a damaging option in the mind of consumers is that increasingly there are backups for things on your phone — in the cloud, on servers, on Facebook or whatever," Rubin pointed out. "Just as a user would have to prepare for their phone being stolen, so they'd have to prepare for it being deactivated."