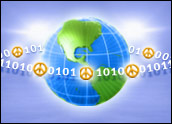 Is momentum for worldwide regulation of the Internet mounting? Unfortunately, the answer to that horrid question is "yes." Last November, a worldwide political pact calling for "increased international involvement" in the creation of Internet governance policies — and inter-government cooperation — emerged at the World Summit on the Information Society (WSIS) in Tunis.
The next meeting of the WSIS is scheduled for this fall, and the consensus may be there for the development of global Internet rules, or, at least, a discussion about what rules should be made, and whom will make them.
The UN advisory group leading the charge is chaired by Nitin Desai, Kofi Annan's special advisor for the WSIS. He called a special meeting last week in Geneva to prepare for this fall's talks.
"In many respects, the debate is about who makes the rules, and how the process works," said Thomas J. Smedinghoff, a partner at the law firm of Wildman Harrold, based in Chicago. "But it's also a debate between those who favor centralized regulation of Internet activities and those who favor a market-driven environment free from intergovernmental oversight and control."
International Framework
Last fall's agreement to establish an Internet Governance Forum (IGF) is seemingly opening the pathway for all interested stakeholders — whether it is governments, private companies or civic, international, political and business organizations — to participate in the formation of a worldwide Internet regulatory framework.
The follow-up meeting is scheduled for October 30 through November 2 in Athens, and all parties are already at the table, seeking to shape the scope of the discussions at the IGF.
An array of issues have already been raised for possible discussion in Athens, including cybercrime, freedom of expression and human rights, and even bridging the "digital divide," said Smedinghoff.
Smedinghoff, a member of the U.S. Delegation to the United Nations Commission on International Trade Law (UNCITRAL), where he participated in the negotiation of the 2005 United Nations Convention on the Use of Electronic Communications in International Contracts, speculates that this latest "evolution" of the online universe will dramatically affect U.S. businesses and the global economy.
I agree. And, because I agree that global Internet regulation will negatively impact the U.S. economy, and global markets, I am completely against it.
Be Prepared
For the coming months, we're going to be hearing a lot of propaganda in favor of this global Internet government. So be prepared.
The UN last month began preparing for this fall's meeting, with Kofi Annan setting up the Internet Governance Forum and a 46 member advisory group of representatives of government, the private sector, academia, technical experts and civil society, to help determine how it should be run.
One member of the advisory group, Chris Disspain, chief executive officer of Australia's Internet domain administrator, auDA, raised some old canards. He said the Internet works well at a technical level. "However, there are many non-technical aspects of Internet governance that would benefit from multi-stakeholder input at an international level. These include how to eradicate spam and how to prevent cybercrime," he said.
Let's step back for a minute here. Do we really want Kofi Annan, and his cohorts, managing our Internet connections? Maybe it's time to expand their portfolio, and let them regulate the Net with the same efficiency and effectiveness that they have managed world peace since the end of World War II.
Give me a break. There is no need to internationalize the regulation of the Internet — especially not spam. This is an issue that is being taken care of by the private sector, which is inventing new spam filters and other amazing technologies every day.
Let Kofi and his clan do what they do best — ruminate over the real meaning of metaphysics while downing US$7 cups of coffee in Manhattan bistros, while running up parking tickets on their cars with diplomatic plates, double parked outside. Leave the Internet alone, Kofi. Leave the current regulatory framework — loosely managed by the U.S. — in place. It's done the job so far. No blue berets needed.
---
Gene Koprowski
is a Lilly Endowment Award-winning journalist, TechNewsWorld contributor and nationally syndicated columnist.
---