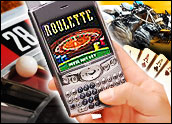 Casinos in Nevada might become the first to explore a new area of the Internet gambling frontier, enabling users to gamble on mobile devices while they're in and around casinos.
A recently passed law makes Nevada the first state in the U.S. to allow the use of hand-held devices for gambling at casinos and resorts. Gov. Kenny Guinn has signed the legislation into law and analysts believe casinos are now working hard to put the technology in place to make mobile gambling happen, possibly within several months.
There will be restrictions. For instance, the law allows for such devices to be used only in public areas of casinos that have 100 or more slot machines and one other gambling activity, and they cannot be used in hotel rooms. They will also have limited hours, with prohibitions on overnight use.
Demand Expected Quickly
The devices will be dedicated hand-held equipment, at least at first, though some analysts believe the future will see expanded availability with gambling, at least in certain settings, possible on smartphones and other devices. That could help accelerate development of new mobile-gambling technologies, some of which, in turn, could hasten the pace of progress toward more mobile commerce taking place.
Analysts say the Nevada law will quickly spread to states such as New Jersey and other states that have legalized casino or riverboat gaming, and could eventually be the forerunner of a larger trend in which U.S. regulators allow more access to Internet-based gaming.
The next step will be for the Nevada Gaming Commission to write specific rules for implementing the legislation. However, many are already looking past that to the market opportunities created, with hand-held device makers, network builders and others in line to benefit.
In fact, lobbying for the law was heavy, with a variety of technology players joining casino owners in reassuring lawmakers that the gaming can be done safely and securely. Among the supporters was Cantor Fitzgerald, the Wall Street bond company that believes the technology used to trade and track bond sales might be suitable for the gambling environment as well.
Another, smaller firm, Diamond I, hopes to be among the first to offer a dedicated hand-held system.
Diamond's offering, known as the WifiCasino GS, uses a proprietary, embedded biometric security solution that reads a users' thumb print and allows only that person to use the device, a feature meant to prevent minors from gambling with the hand-held devices.
Booming Online Industry
"This bill will enable Nevada casinos to utilize recent advancements in mobile technology to enhance their customers' gaming experience, as they compete against casinos in other jurisdictions and Internet gaming operations," David Loflin, president of Diamond I, said.
Loflin noted that the Gaming Commission must find that there are sufficient measures in place to ensure no minors use the systems. "We believe that our proprietary biometric technology will assist the commission in making that finding," he added.
Casinos in the U.S. are eager to find ways to compete with the burgeoning online gambling industry, which is based in offshore locations but is drawing millions of dollars from U.S. gamblers, especially those interested in sport betting and in casino-style games such as poker.
Christiansen Capital Advisors analyst Sebastian Sinclair said casinos are looking for any handle they can get on the explosion of Internet-based gambling, which is by far the fastest-growing type of gambling and seems to pose something of a long-term threat to casinos.
"The audience for online gaming will continue to expand faster than almost any other form," he told the E-Commerce Times. "Casinos are under pressure to find more and new ways to engage customers and make them players."
Competitive Footing
However, most analysts believe that before Internet- or mobile-based gambling spreads much further in the U.S., advances that ensure security and that under-age players don't get drawn in need to be put in place. Still, many analysts believe the U.S. will eventually have to move away from its current stance of considering all Internet gambling illegal to some kind off regulated environment in order to put domestic gambling concerns on equal competitive footing.
Overseas gambling companies got a boost from the World Trade Organization late last year in a ruling that said U.S. states could not outlaw online versions of gambling activities they allowed in their own jurisdictions. That meant that many states where horseracing or Indian casinos are legal might have to allow their residents to bet at offshore virtual casinos.
---
This story was originally published on Aug. 3, 2005, and is brought to you today as part of our Best of ECT News series.
---