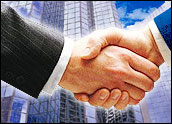 Eying expanding opportunities in the corporate mobile data realm, Sybase said today it had agreed to buy a software company that makes middleware for enterprises.
Sybase said it would pay about US$71.3 million in cash to acquire Extended Systems, an 11-year-old company whose main product, known as OneBridge, helps enterprise applications work with mobile devices for projects such as sales force automation and customer relationship management.
Sybase said OneBridge is already in place in about 2,500 enterprise settings. The company's products will be integrated into Sybase' own iAnywhere subsidiary, which focuses on mobile software and solutions to extend corporate networks to the mobile world.
Unwired Enterprise
Extended Systems is based in Boise, Idaho, and employs about 180 people in North America and Europe, where it has a particularly strong market presence. Its products help mobile users access a range of corporate data, including e-mail and sales management tools.
Sybase CEO John Chen said the purchase would enhance the larger firm's portfolio of mobile solutions and "strengthen our geographic presence, particularly in Europe."
"This acquisition will position Sybase with a powerful, end-to-end information mobility offering that, when combined with our industry leading mobile database and mobile device management products, will enable Sybase to deliver on the benefits of the unwired enterprise," Chen added in a statement.
Sybase is targeted at what many analysts and other companies agree is a market ready to burst into rapid growth mode. Enterprises have begun to recognize the value of expanding their use of mobile solutions to manage workforces in the field and to better communicate with partners and customers alike. However, many are also confused about the options they face and are unsure about the best way to invest in technology in order to capitalize on the benefits of mobile.
Range of Solutions
In addition to OneBridge, Extended Systems also offers software development kits that help partners and equipment makers integrate wireless solutions on a variety of platforms. It also offers a database software set used by 1,200 Delphi database users worldwide.
The firms said together they could better target the Fortune 500 and other large companies with their shared vision of the "unwired enterprise."
"A lot of businesses struggle with how to best deploy and manage wireless services," Ovum analyst Roger Entner told the E-Commerce Times.
A slew of companies are eying the marketplace for such services and solutions, from IT consulting firms to mobile carriers that consider the enterprise mobile market a key to their future financial success. Earlier this week, Sprint launched a consulting business designed to help enterprises get a handle on how best to use mobile data solutions.
"Enterprises do tend to favor solutions from a trusted partner they already have a relationship with," Entner added. In addition, any solution that can work with what's already on the network is going to resonate with companies, which might give software vendors such as Sybase a leg up on the competition.
Buying High
The purchase comes as Dublin, Calif.-based Sybase rides a strong wave of recent success. The company's stock stands near its 52-week high in the wake of its recent earnings announcement. In the second quarter, Sybase handily beat analyst forecasts for earnings and revenue growth.
One of the engines of the recent success has been previous acquisitions, said Gary Abbott, an analyst with Merriman Curhan Ford & Co., who follows Sybase.
Abbott said Sybase has managed to buy smaller software firms with strong technology and with revenue streams that can instantly help contribute to Sybase's bottom line. Earlier this year, Sybase bought integration technology firm Avaki, and ISDD, which makes tools to manage unstructured data in network settings.