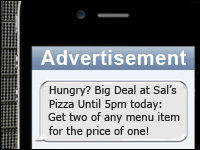 Mobile advertising revenue skyrocketed by 82.8 percent in 2012 to reach US$8.9 billion globally, according to a report released Tuesday by the Interactive Advertising Bureau Mobile Marketing Center of Excellence, IAB Europe and IHS.
North America, in fact, saw an even bigger leap, with a 111 percent surge over 2011 figures to $3.5 billion, or 39.8 percent of the global tally.
"Mobile is coming into its own as a powerhouse advertising medium," said Anna Bager, vice president and general manager for the IAB's Mobile Marketing Center of Excellence.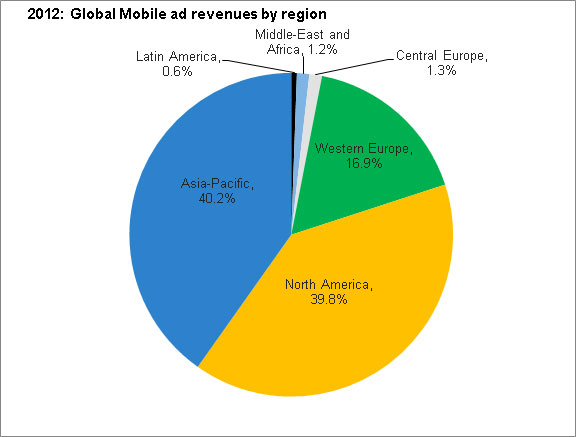 "Today's advertising is happening in a world where ad campaigns can be planned and bought across global networks on multiple media, but the massive and continuing acceleration of mobile's international impact provides new and exciting frontiers for content and communication," she added.
Search Ads in the Lead
Search comprises the largest share of mobile advertising revenues, with 52.8 percent in 2012 globally, according to the report.
Display advertising follows closely behind with 38.7 percent, and messaging takes 8.5 percent.
North America follows the global trend in that respect, with search comprising 55.9 percent of the channel, display taking 32.9 percent and messaging accounting for just 11.2 percent of mobile advertising revenues.
In emerging markets, however, messaging is more widely used, accounting for 66.7 percent of mobile advertising revenues in Latin America, for example.
More Experienced Ad Buyers
"Mobile adoption continues to be very strong in the U.S.," Joe Laszlo, senior director of IAB's Mobile Marketing Center for Excellence, told the E-Commerce Times. "The sheer size of the audience makes mobile increasingly important to advertisers."
Meanwhile, "greater ad buyer experience with and confidence in mobile advertising is another key driver of growth," Laszlo added. "Advertisers and agencies are gaining more experience with what works on phones and tablets; better tools (incorporating standards like HDML5 and MRAID) to create exciting mobile ad campaigns; and also better ability to track the effectiveness of ad campaigns."
Just last month the IAB introduced new ad formats designed to extend mobile advertising beyond small, basic banners.
"We are beginning to track adoption of them on smartphones and tablets, and the IAB expects that as these formats become more widely deployed, their greater impact will encourage ad buyers to increase their mobile budgets," Laszlo said.
'Looking for Stuff'
In the meantime, it makes sense that search occupies the lead in the mobile domain, technology and strategy consultant Chetan Sharma told the E-Commerce Times.
"Given that it is mobile, consumers are looking for 'stuff' and hence search advertising continues to do well," Sharma explained.
"Display is more interactive than messaging and hence it outpaces messaging which, while it is ubiquitous and the most pervasive of the three platforms, has lower utility for marketers," Sharma added. "Ideally, they would combine the three mediums, but messaging is more of a utility play and hence low CPMs."
'All About Google'
Of course, in the search domain, Google is the major player.
"It's really all about Google," Greg Sterling, principal analyst at Sterling Market Intelligence, told the E-Commerce Times. "Google is really in a position to be much more dominant than it is online."
In fact, "well over 90 percent of mobile search revenue is going to be mobile Web-based, and it's going to be Google. Google is so far ahead of Bing and Yahoo," he added.
'Advertisers Follow'
Looking ahead, there doesn't seem to be any end in sight to the growth of mobile advertising.
"Mobile's come a long way in the U.S. over the last five years," Josh Crandall, principal analyst at Netpop Research, told the E-Commerce Times.
"Smartphone adoption stands at 54 percent, which equates to more than 100 million people," Crandall pointed out. "Consumers often turn to their phones first when going online, and where people flock, advertisers follow."