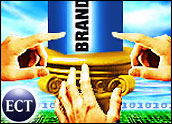 Ask online marketing experts whether it is possible to build a brand strictly by using the Web; most of them will say it is. And almost all of them will move quickly to qualify their answer.
"I think it is possible, but I'm not sure it's the most effective way to build a brand," David Rosenblatt, president of online marketing firm DoubleClick, told the E-Commerce Times.
"The fundamental idea of any kind of marketing is to meet the consumer where he or she is. And as much as online use has grown, most people still spend more time offline," Rosenblatt said.
Indeed, while some of the Web's best-known brands, such as Amazon.com, eBay and Yahoo!, got an initial foothold by marketing on the Web, all eventually saw the need to extend their message to print, television, radio and direct mail channels.
Been There, Done That
Still, experts can cite some examples of fairly new brands that have been built almost exclusively on and through the Web. One oft-cited example is X10.com, which sells wireless cameras and networking products.
X10 gained fame — and infamy — by becoming one of the first serious users of pop-up advertising, which is now used widely on the Web.
X10's message is a natural fit for the Web, Rosenblatt said, because its target audience is wired young men who spend a lot of time online.
Online All the Time
Another success story is Classmates.com, which advertised exclusively on the Web and has become one of the busiest Web sites with one of the largest paid subscription bases online. Classmates.com often ranks among the top online advertisers.
"We've found that the people who come to us through our ads and partners are the most likely to stay and become members," Michael Schutzler, president and CEO of Classmates.com, told the E-Commerce Times. "For us, it makes sense to stay within the confines of the Web, at least for now."
Brand News
Target audience is also a key consideration. Marketers can easily target teenagers who spend hours online each day.
Still, the value of reinforcing the message is so important that multiple approaches are necessary in almost all cases. "It might come down to a question of the mix, but I'd always recommend meeting the consumer in more than one place," Rosenblatt said.
Online brand building is easier, of course, if the brand in question has an offline foundation on which to build. ConsumerReports.com, for instance, has racked up huge success as one of a handful of successful pay-for-content sites, thanks largely to its deeply entrenched offline brand image.
Riding Piggyback
Dane Madsen, who left a career on Wall Street to become CEO of YellowPages.com, an online directory of businesses, said the company's ability to secure its domain name convinced him to take the job.
"People think of the yellow pages and immediately go to our site," Madsen told the E-Commerce Times. The site had 6.5 million monthly visitors during its busiest stretch in 2001, he said. "Our biggest challenge is meeting the expectations that people bring with them."
For YellowPages.com, that means providing local business listings, which is a challenge since only a fraction of small businesses have a Web presence, and only a fraction of those keep their Web site up-to-date.
Following Up
In fact, Madsen argued that the difficulty of brand-building has less to do with marketing and more to do with executing a business plan.
For example, early dot-coms like Amazon have thrived because they delivered what customers expected and, whenever possible, exceeded those expectations.
"I always say we won the lottery when we got our domain," Madsen said, noting that the original owner of the domain name had let his registration lapse. "But we could screw it up badly if we didn't operate it effectively. I think it's hard to completely destroy a brand, but it can be messed up."