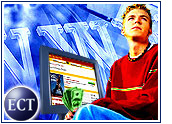 It's no secret that mis-targeted, misspent brand advertising dollars have gotten e-tailers into plenty of financial hot water over the past few years.
However, there is at least one target audience for whom a large, consistent dose of brand marketing makes perfect sense. In fact, when it comes to the next generation of online shoppers, brand marketing might be the only recourse for e-tailers attempting to generate revenues and future profits.
"Teenagers are 10-, 11- and 12-year-old kids before they become teens, and companies that establish a bond with kids through interactive Web sites and engaging online experiences will have a much better chance for success," Yankee Group analyst Paul Ritter told the E-Commerce Times.
However, marketing to children poses a number of risks — both financial and legal.
Risky Business
Financially, direct returns are difficult to measure and might not show up as revenues for years to come. Legally, potential fines and restrictions come from violating laws such as the Children's Online Privacy Protection Act (COPPA).
Nonetheless, many e-tailers are giving branding to kids their best shot.
"Marketers are trying to push [online marketing] down to a younger level," Yankee marketing analyst Michelle Pelino told the E-Commerce Times.
E-tailers are betting that reaching kids at a younger age with their branding message will result in a greater chance of turning those kids into loyal customers when they are older.
"E-tailers are coming to the realization that they really have to get the brand name into the teenager's head," Nielsen//NetRatings analyst Kim Pillon told the E-Commerce Times. "A lot of companies are now looking at the age 12-to-18 group. It's a good marketing strategy to market to teens with the idea they are the next generation of shoppers."
Game Playing
How young should e-tailers go? Is there an age cutoff that makes sense, both ethically and financially?
According to COPPA, collecting personal information on any child under the age of 13 without proper notification and/or parental consent can mean big trouble, including penalties up to US$11,000 per violation.
To stay within bounds of COPPA, most e-tailers do not try to collect personal information on children. Instead, according to Ritter, they merely want to extend their offline brands to the online world.
Puzzling Problem
This online branding takes the form of puzzles to solve, games to beat, content portals, and branded messaging and chat services. Under these guises, it seems, the younger, the better.
"A lot of campaigns are being developed that relate to younger kids," Pelino said. "There are games that have marketing components in them, where you put things together, or do different activities and ultimately you're putting together the logo for Coca Cola."
For example, Disney.com uses a kids "activity center" and an online kids club to get children actively involved in learning the Disney characters and becoming familiar with the brand.
Hitting The Mark
Of course, kids have to buy into these games, activities and clubs for these strategies to be successful. A recent Yankee Group Interactive Consumer Survey found that less than 2 percent of 7-to-11 year-olds engage in any type of e-commerce activity.
Still, the strategy of branding through games seems to have promise. According to Yankee, households with children age 6 and younger report that the predominant online activity is engaging in online games, with 38 percent of kids in that age group participating. That number jumps to 69 percent for the 7-to-11 age group.
"Thirty-five percent of kids in the 12-to-17 year-old category visit youth-oriented portals while online," said Ritter. "Seventy percent use instant messaging to communicate with their friends and family, and 87 percent are using e-mail. Armed with that knowledge, it is clear how to develop strategies for connecting with the teen market."