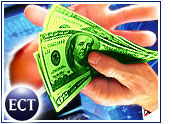 Beginning on Friday, Reuters can no longer use a critical piece of technology in its widely used Reuters Messaging Network, a court ruled Wednesday.
Instead, the United States District Court for the Southern District of New York entered judgment in favor of FaceTime Communications, owner of the instant messaging (IM) technology, in its contract dispute with Thomson Reuters.
Reuters had been licensing FaceTime's technology since 2006 to provide instant messaging compliance for its financial customers. That contract expired Jan. 31, and Reuters had the option to pay US$150,000 before then for perpetual rights to the technology. Unfortunately, it didn't make the payment on time.
Could 'Cripple' Operations
Many financial institutions rely on the Reuters technology to ensure compliance with Securities and Exchange Commission (SEC) and Sarbanes-Oxley regulations for logging, archiving and retrieval of electronic communications regarding financial transactions. Traders are typically the technology's primary users, since their communications are subject to strict compliance regulations.
In court documents filed earlier this month, Eran Barak, Reuters' global head of strategy for collaboration services, said that the loss of the technology could "cripple" the day-to-day business operations of Thomson Reuters customers using the Reuters Messaging Network.
"There is no immediate practical substitute" for the compliance technology, and that development of any such substitute "would take several months," Barak said.
'Not Clear What Went Wrong'
Given the apparent importance of the technology in question, it's difficult to discern why the final payment deadline was missed.
"It's not clear what went wrong at Reuters, but this loss should have been avoidable with a proper calendaring system that alerted its in-house lawyers to begin the option evaluation process well in advance of the option window deadline," wrote Eric Goldman, assistant professor at Santa Clara University School of Law, in his blog.
Officials from Reuters could not be reached for comment.
Timetable Concerns
Following the late payment and other difficulties in renegotiating the contract subsequently, FaceTime filed suit against Reuters in May.
"While we are pleased that FaceTime's intellectual property rights are protected, we are concerned about Reuters' timetable for installing replacement technology in light of its representations to the court as to its ability to provide adequate compliance protection for its customers," said Kailash Ambwani, FaceTime's president and CEO.
"Reuters is choosing to potentially put its customers in jeopardy of not having adequate compliance capabilities," Ambwani added on his blog.
'The Power of IP'
"This case amply illustrates the power of intellectual property and the potential for disruption," technology attorney Raymond Van Dyke told the E-Commerce Times.
"Companies endeavor to obtain protection on their R&D (research and development), and must, at times, enforce those protections," Van Dyke explained. "Since one of the protections under copyright is controlling the use of the software, along with other distinct rights on copying, distributing and other actions, an injunction can be obtained against unauthorized usage. The effect, of course, is disruption on companies not able to work around the technology."
Indeed, while FaceTime's Ambwani is pessimistic about Reuters' ability to come up with an alternate technology on a reasonable timetable, Van Dyke said it probably won't come to that.
"It is likely that the parties will reach an accommodation to forestall the disruption," he predicted.
A report in the Wall Street Journal's Business Technology blog, meanwhile, asserts that Reuters already has another vendor's compliance technology in place and ready to be operational by Thursday. So, it's possible any potential disruption will be forestalled altogether.
'Textbook Stuff'
Either way, the case is a good lesson in the importance of carefully managing contracts, Goldman told the E-Commerce Times.
"This is the textbook stuff we try to teach in class," said Goldman, who teaches classes in contract drafting. "You can draft a perfectly great contract, but then mess it up in ways that can't be fixed after the fact."
Many lawyers, "even really sophisticated deal lawyers, sometimes don't think about the implementation end of things," he added. "Solving a client's problem has a cradle-to-grave requirement. If you want to avoid liability, you've got to think about the full aspects of what clients do with their contracts."