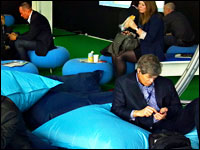 Mobile identity was the theme that kicked off at a keynote speech Tuesday at CTIA 2013, the wireless industry trade show under way this week in Las Vegas.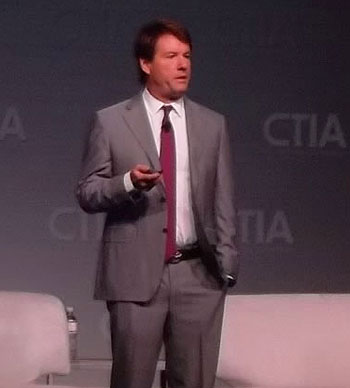 MicroStrategy CEO Michael Saylor at CTIA
Michael Saylor, founder, chairman and CEO of MicroStrategy and author of The Mobile Wave spoke of how mobile identity is becoming a vital part of consumers' lives.
The subject of identity is put into context as mobile phones grow in sophistication, and can act as a visual technological form of identification, both in-person and remotely.
3 Trends in Transformation
In the mobile wave, according to Saylor, software effects society. "It dematerializes products and services," he said. "Things that used to be done by people are now done by software."[*Correction – May 23, 2013]
Three fundamental types of transformation were identified by Saylor:
Dematerialization occurs when smartcards are inserted into smartphones to replace payment systems and other processes that require authentication;
Cyberphysics is a phenomena where the laws of physics behave differently when they happen on a smartphone. The laws of gravity don't apply, and computers and mobile phones create new practices. "As the mobile wave strikes banking, retail [and other industries], it's no longer dematerialized, it's magical," Saylor said.
The third trend is networked applications. "You can take a tablet, use it, and it can talk back to me," said Saylor. Apps and connected devices allow for programs to talk to each other, sharing information among users. "What happens when five million people are using Google Maps, and Google Maps uploads traffic data?"
Networked applications also include ubiquitous services as YouTube, Facebook, LinkedIn, Twitter and other social networks that have grown even more popular on the mobile platform.
A speaker who took the stage prior to Saylor built up to this point. "Over the past few years wireless has transformed our lives," said Mary Dillon, president and CEO ofU.S. Cellular and CTIA Chairperson. "Remember when Facebook wasn't mobile? Imagine how many innovative experiences are going to be created over the next five years."
The Identity of Things
Currently smartphones handle identity for applications more than other services such as payments, or entry into a building. "We're in the first era of identity, a shallow identity," said Saylor. "That works for things that are fairly inconsequential."
Identity today logs us into Facebook and other applications using the social network's login. In the future, the mobile phone will literally hold the key to our identity, Saylor said.
"I think in the next four years we're going to move toward a feature of identity," he added. "If we can put commercial identity on a smartphone."
Saylor spoke of a future where consumers will use their phones for payments, but use the identity properties baked into smartphones to sign legal documents, file taxes and vote, among other activities. The phone is also capable of storing information to unlock doors and handle other identification issues.
Identity of Diversity
Identity of a different sort was discussed during an earlier panel made up of female executives who oversee wireless operations in different industries including retail and automotive, as well as telecom and software.
The industry needs more diversity, said Dillon, the panel's moderator. "I'm glad to be the first female chair, but believe they really need to work on diversity."
A different kind of diversity — this one involving industries the panel represented, and how wireless influences those industries — was addressed by another executive on stage.
For example, Mary Chan, president of global connected consumers at G, oversees the use of wireless technologies in her company's cars. That includes OnStar, which uses wireless connectivity to provide navigation and perform diagnostics on GM automobiles.
One of the challenges for GM, Chan said, is to keep content and updates fresh for the lifespan of a car. She compared it to the corporate trend of bring-your-own-device (BYOD), adding that the automotive industry operates in much the same way.
"As an industry, how do you take the solutions and bring them into a different industry such as automotive, [and support] a five-year lifespan and keep the content fresh?" she said. "It is important for the technology, as well as the people driving the technology, to keep the content fresh in order to build identity."
---
*ECT News Network editor's note – May 23, 2013:
Our original published version of this story misquoted Saylor as saying software's effect on society "demonizes" products and services. He actually said "dematerializes." We regret the error.