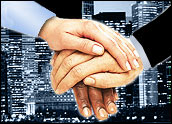 A new ad sales pact between Microsoft, Yahoo and AOL has the tech companies teaming up against a common enemy, Google, according to All Things D. By selling ad inventory on each other's sites, the three aim to hang onto ad revenue that previously was lost to third-party networks.
Executives from the three companies reportedly spoke to a group of Web publishers and ad buyers about the plan at a dinner presentation on Tuesday in Manhattan. Their goal is to convince big Web properties to share ad inventory and get ad holding companies to run some purchases through their sites.
Microsoft, Yahoo and AOL agreed to sell each others' "class 2 display" inventory, which are advertisement images that the companies cannot sell on their own and usually hand over to ad networks, All Things D reported. For example, if AOL had an order for a certain type of ad impression, then it might fill the space with Yahoo's and Microsoft's inventories as well as its own.
The plan is set to start at the end of this year and does not require exclusivity. Yahoo America's head, Ross Levinsohn pitched the plan on behalf of Yahoo at the presentation. AOL CEO Tim Armstrong and Microsoft advertising COO Dave O'Hara attended, said All Things D.
Just Another Partnership?
Microsoft acknowledged that it is open to partnerships but did not specifically confirm the ad alliance to the E-Commerce Times.
"We believe that choice, openness and competition help drive innovation in the market," the company said in a statement provided by Emma Mahoney of Waggener Edstrom. "As such, we are always looking for ways to partner with others in the digital advertising ecosystem to offer innovative solutions that benefit advertisers and publishers. However we have nothing specific to share at this time."
AOL and Yahoo did not respond to the E-Commerce Times' requests for comment by press time.
Group-Effort Efficiencies
By joining forces, the three companies can reduce their costs while beefing up profits — that is, if their working relationship doesn't pile on a new level of bureaucracy.
"The teaming of Microsoft, AOL and Yahoo to be able to sell each other's display ad inventories can work in terms of improving efficiencies," Azita Arvani, principal of the Arvani Group, told the E-Commerce Times. "The cooperation could lead to maintaining a higher ad revenue for their publishers. The collective participants have to agree to some rules of engagement so they won't trip over each other."
One of the challenges of this type of group effort is the difficulty of managing shared advertising while also trying to grow individual marketing efforts. Can they run while holding hands?
"While this can be an efficient tactical move, the three companies still need to work on their more strategic issues," said Arvani. "How would each member grow their share of display ad placements? That is the bloodier battlefield for them to fight on with Google and Facebook."
The Enemy of My Enemy Is My Friend
Microsoft, Yahoo and AOL individually have had trouble dealing with Google alone, and this advertising agreement could lead to a further allied assault on the Web giant.
"They're doing this because they want to go against Google," Laura DiDio, principal analyst at ITIC, told the E-Commerce Times. "This is another example of how Microsoft got its groove back. If you're Microsoft or AOL or Yahoo, you have to do something. In the search engine space, separately these are smaller animals at the watering hole. So they have to get together to have any force in the market. If you put the three of them together, maybe you have 25 percent marketshare. That's better if you're going up against Google with its 65 percent marketshare."
While this may appear to be a desperate move — well, desperate times call for dramatic action. Google has spent years sucking all the oxygen out of the Web advertising market. Now it's time to hit back — or at least try to.
"I hate to call this desperate, but that's not totally inaccurate," said DiDio. "Now they've joined together to hit Google hard. This is what they have to do to make any dent in Google. It's a good strategy. They still have to explain what they're going to do and how they're going to do it. They also have to have a strong relationship. I'd like to see what happens over the next six months."