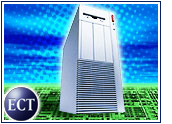 In a bid to grab a larger share of the booming market for managing stored data, Microsoft has released the latest version of its storage server software, though the launch was overshadowed by word of more security flaws in its flagship operating system.
The software giant unveiled Windows Storage Server 2003 at the Storage Decisions 2003 conference in Chicago, saying the solution will be available through a host of hardware makers, including EMC, Dell, NEC and HP.
With the products — which include an enterprise edition and one aimed at smaller businesses — Microsoft is hoping to strengthen its grip on a market that is growing as more companies of all sizes gravitate toward nework-attached storage, said Microsoft vice president Bob Muglia.
"IT professionals continue to tell us they need cost-effective storage solutions to help ensure data availability, realize the savings of file server consolidation and maintain business continuity," he said in a statement.
Well-Positioned
According to data from research firm IDC, Windows-based software runs 41 percent of the network-attached storage (NAS) infrastructure, making it the dominant market leader. The overall market for NAS is worth an estimated US$1.8 billion annually.
IDC storage analyst Brad Nisbet told the E-Commerce Times that Microsoft is well positioned to take advantage of growth in the market because it is aligned with several top vendors in a shifting market landscape. Earlier this year, EMC lost the top spot to Network Appliance, and Dell and HP also have made major gains.
"The lines between storage and the network are being blurred, and that has helped the hardware vendors who have solid footholds in enterprises pick up share in the storage space," Nisbet said. "It makes sense for a lot of enterprises to tie their networks together with an operating system that is already in place."
The Few, the Proud
Microsoft cited several examples of organizations already using the product to boost productivity and reduce IT costs, including a division of the U.S. Army Reserve, which wants to make it easier to share stored files across its network.
The software maker has plenty of allies in its push, as vendors ranging from Computer Associates to Veritas Software already have pledged support for the product. Microsoft also has launched an online "community" where developers and administrators can share ideas and tips on how to deploy the new product.
The software will be sold only as part of a hardware configuration, with prices ranging up to $70,000.
Timing Is Everything
Although the software release was timed to coincide with the storage-focused conference, Microsoft also found itself forced to acknowledge more serious Windows flaws.
The newest vulnerabilities are in the same RPC code that enabled the Blaster worm to spread rapidly last month, and Microsoft has urged Windows users to patch their software as soon as possible before another widespread attack can occur.