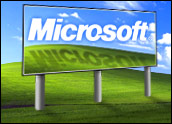 Hoping to put its software at the center of a unified PC-based communications system that encompasses voice as well as data, Microsoft said it would work with a number of partners in the telecom and tech industries to produce a range of devices — including IP phones and peripherals.
Microsoft said it would work through strategic alliances with a range of companies, including Polycom, LG-Nortel and Thomson Telecom to develop and market versions of IP-enabled business desktop phones that extend the communications tools in the software giant's Office productivity suite well beyond the PC.
Variety of Products
Other companies, including GN Netcom, Logitech, Plantronics, Samsung and Tatung, will work with Microsoft to create peripheral devices, including USB handsets and wireless headsets, Webcams and PC monitors with built-in audio and video capabilities.
Jeff Raikes, president of the Microsoft Business Division, unveiled the plans at a strategy event in San Francisco. He said with help from partners, the company's software can "transform business communications, bringing down both its cost and complexity."
With the IP phones, users will be able to quickly determine the availability of contacts, extending the so-called "presence" tools widely available in instant messaging platforms to voice calling.
Microsoft also said it would work with Motorola to develop a version of Microsoft's Office Communicator that will work on Motorola's smart phones and with Hewlett-Packard to develop hardware and systems-integration services for companies that want to make the most of the new communications tools.
The partnerships underscore Microsoft's desire to have its software platform become the foundation for an extended communications system, one that enables workers to initiate phone conversations and other contacts from inside the software tools where they do most of their work.
Plenty of Company
So-called "unified communications" is a market that major technology and telecom companies have been eyeing for years as the convergence of voice, data and video became increasingly apparent. The jury is still out, however, over the best approach to achieve that all-in-one communications capability.
Others pursuing the same market opportunity include Cisco Systems and IBM. In fact, Cisco CEO John Chambers targeted unified communications in a speech just last week, saying the market opportunity is at least US$10 billion for such services. Also, IBM said Monday its next version of Lotus Sametime would enable Big Blue's flagship communications product to be integrated with Microsoft Office.
Microsoft may have an edge, however, since millions of knowledge workers already utilize and are comfortable with its suite of productivity products. Microsoft hopes the soon-to-launch Office Communications Server 2007 will become the hub of an expanded communications portfolio, one that lets users instant message across different platforms, share documents and interact over phone calls and instant video feeds from their PCs.
The software company believes its solution can help address the frenzy that many workers feel as they are bombarded with instant messages, faxes, voice mails and e-mails by unifying them in a single place with a common interface.
Cameras and Plug-Ins
Microsoft said one of the key hardware components of its communications push would be a Microsoft-branded Web cam. Dubbed RoundTable, the camera sits in the center of a table, giving remote participants a 360-degree view of a meeting room.
In addition to giving users an idea when people they want to communicate with are ready to take their calls or text messages, Microsoft said the tools would enable name-based calling, with users able to dial a co-worker or collaborator by clicking on their contact information. It will also create a single user experience across communications tools and help businesses drive down the cost of communications.
The notion of unified communications got its start with mobile services providers, who offered customers a single location for all their voice mails and messages, said Ovum analyst David Bradshaw.
"Customers who adopted the technology loved it, and found it hard to manage without it — but they were few in number," Bradshaw said. "Market take-up was low and most of the independent players disappeared. However, many of the individual elements of unified communications, such as fax to e-mail and voice to e-mail, have since become mainstream.
"The key question is whether the embedding of unified communications capabilities in Microsoft Office will make it more likely that the sophisticated features get used," Bradshaw added. "Since the vast majority of users make use of less than 10 percent of the functionality in Microsoft Office, my first reaction is that this is unlikely."
Still, Bradshaw believes the addition of VoIP functionality alone will attract many new users to unified communications. "Offering VoIP from within Office looks like a good way of drawing users into the unified communications domain," he noted. "Depending on how good a job Microsoft has done on making the more sophisticated features available, this could well provide the breakthrough for unified communications."
By reaching out to partners — something Microsoft has done much more frequently in recent years than in its early days — Microsoft is acknowledging that truly unified communications relies on more than just Microsoft products, said Ettienne Reinecke, Chief Technology Officer of Dimension Data, which does communications integration work for business customers.
"Unified communications requires interoperability between communications solutions from all suppliers — whether it is Microsoft, Cisco, Nortel, Avaya or any other," he said. Reinecke believes the all-in-one-location feature of Microsoft's offering will "rapidly change the way employees work and result in dramatically improved collaboration and productivity."