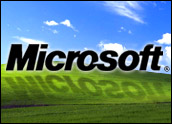 With the tech industry still abuzz over the announcement that Bill Gates will step back from the day-to-day operations of Microsoft, the software giant Tuesday acknowledged the immediate departure of one of its top marketing executives.
Martin Taylor, 36, regarded as a key advisor to CEO Steve Ballmer, left the company after 13 years. Microsoft said it doesn't comment on personnel matters, noting only that it had made "the difficult decision to part ways" with the executive.
"We appreciate Martin's contributions at Microsoft over the past 13 years," the company said in a statement.
Questionable Timing
Taylor's most recent title was that of corporate vice president of Windows Live and MSN marketing, where he provided key strategy input on how Microsoft could market its family of Web-based software services under the Live brand, the software giant's answer to the threat posed by Google and others.
In his role overseeing marketing of the Windows platform, Taylor helped to steer Microsoft toward high ground as it battled Linux amid a surge of interest in that open source alternative to the Windows environment.
At a time when Ballmer often publicly dismissed Linux as substandard software, Taylor created a campaign focusing on fact-based evidence that Microsoft could be a lower-cost, better-performing alternative. That effort effectively blunted some of the impact that Linux was having on Microsoft.
While executive churn is a fact of life for all corporations, the departure comes as Microsoft is under the microscope, with industry observers looking for signs of change triggered by the departure of Gates. The company's head honcho announced late last week that he would step down from day-to-day operations in two years and would immediately turn over his title as chief software architect to Ray Ozzie.
Ballmer's Successor?
The timing also raised questions because as recently as Monday, Microsoft press releases quoted Taylor about the launch of Windows Live Messenger — the first offering in what is to be a broad suite of Web-delivered software and services meant to blunt the competitive thrust of Google and Yahoo.
Taylor was scheduled to speak directly with reporters about the Live initiative, but Microsoft rescheduled those interviews to include a different MSN executive at the last minute.
"Given his stature in the company — in effect, he was in line to be the CEO one day — whatever happened must have been significant," Enderle Group Principal Analyst Rob Enderle told the E-Commerce Times.
"Anyone can make a mistake, and my sense is, right now, given the Vista slip, Microsoft is not being as tolerant of mistakes as they might have been a few weeks ago — particularly given the pressure Steve is under," he conjectured.
"Tempers are short on campus, and there are a lot of really hard feelings about the Vista slip between workers and executives," Enderle added. "My guess — and it is only a guess — is his sudden departure had something to do with that. We may have to wait for Martin's book before learning what the heck actually happened."
Meanwhile, the Web-facing side of Microsoft's business is also in a state of change, with former Ask.com CEO Steve Berkowitz taking over supervision of the content side of the MSN portal. Microsoft split MSN content off from the Web services elements of the business, such as Web mail, social networking, mapping, search and instant messaging.
Taylor was a main driver of Microsoft's marketing effort in that area — a sizeable challenge, given the shift it represented for the company away from packaged, licensed software to an on-demand, online model supported by online advertising.
Microsoft is in a unique position in that space, since it is coming from behind as underdog to the dominant Google. Microsoft has pledged to become a leading force in online advertising, though it doesn't expect to reach that level for a number of years.
"This could have implications for Microsoft's move into search," said Search Engine Watch editor Barry Schwartz.
Recent Promotion
Taylor received the title of vice president in late March, a reflection of his past work and also an indication of his greater responsibility for developing traction for Windows Live and the related bundle of Web services.
Taylor was clearly a rising star within the software giant, given his recent ascendancy to the VP role, Yankee Group analyst Laura DiDio noted. The news of his departure, shortly after the news about Gates dialing down his own involvement, might give some customers and investors pause, she said, but the bottom line will continue to be Microsoft's ability to execute on its broad and bold strategic initiatives.
With Windows Vista in the pipeline, along with the Windows Live effort, all eyes will be on Microsoft to see if it can meet deadlines and start to make a dent in Google's massive and growing search lead.
"The focus will shift from individuals to performance pretty quickly," DiDio added.