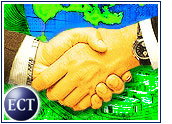 Microsoft has announced it will pay US$96 million in cash to acquire Vicinity, a firm that helps customers locate nearby merchants. The move eliminates a competitor and may reignite talk of a possible Microsoft buying spree.
Microsoft agreed to pay $3.33 for each outstanding share of Sunnyvale, California-based Vicinity, a premium of more than 40 percent over Tuesday's closing price of $2.24.
Bargain Hunting?
Vicinity, whose customers include Taco Bell, Hilton Hotels, Ace Hardware, the Gap and about 300 other retail and service chains, helps customers find information about a company's nearest outlet and its hours via the Web, telephone or wireless devices.
The firm was founded in 1995 and went public early in 2000. Amid a still-strong appetite for technology stocks, Vicinity shares traded as high as $75 before they began to fall.
Microsoft said it will merge Vicinity with its own MapPoint unit and will customize the company's software to work on the .NET Web services platform. In addition, the deal will close by March 2003, and Microsoft will work to ensure uninterrupted service for Vicinity customers.
What's the Alternative?
Giga Information Group director John Ragsdale told the E-Commerce Times that the products Vicinity offers make sense because the alternative is for corporations to staff call centers to answer the same basic questions repeatedly, such as where a store is located or what hours it is open. "That is not a cost-efficient approach," he said.
In a report last year, Aberdeen Group analyst Nicole Nicas said Vicinity was one of a handful of firms on the leading edge of developing location-based services for mobile devices. Such services could become more important as retailers begin to take a proactive approach, using location technology to alert customers to nearby sales or offers.
Dealing Done?
Microsoft officials were not immediately available for comment on the deal or whether it signals that the Redmond, Washington-based software giant might be moving into acquisition mode to take advantage of still-depressed tech company valuations.
According to its recent quarterly earnings statement, Microsoft has about $40 billion in cash and short-term investments on its books, the same amount as last year, when rumors sparked that the company could be poised for an acquisition spree.
Meanwhile, the company's stock, which traded at $51.67 early Wednesday, remains a valuable currency that could also be used in deals.
Been There
Microsoft has been a buyer in the recent past. Earlier this year, the company finalized a deal to buy European CRM software maker Navision for $1.3 billion. In late 2000, it paid $1.1 billion for software maker Great Plains.
Recently, talk had been heating up that Microsoft might bid to buy at least a small stake in CRM giant Siebel Systems. Instead, the two companies announced a long-term marketing and development partnership earlier this week.