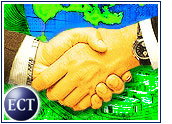 According to reports, Microsoft is expected to purchase Danish enterprise software company Navision for about US$1.2 billion.
Navision, one of Europe's leading developers of mid-market enterprise software, released a statement Tuesday that avoided any direct mention of the Redmond, Washington-based software giant.
"Based on market rumors, the Board of Directors can confirm that it is considering a possible strategic transaction," the statement said.
"Such investigations may or may not result in any agreement on a proposed transaction. Navision will have no further comment unless and until the circumstances necessitate further announcement."
Great Plains To Complement
News sources assert that an official announcement is expected as early as next week as the two companies sort out conditions of an acquisition.
A Microsoft purchase of Navision would follow up the software giant's $1.1 billion purchase last fall of U.S.-based Great Plains, which also designs enterprise software to improve small to mid-size business efficiencies. Navision had discussed a possible merger with Great Plains just before Microsoft acquired that company.
By acquiring Great Plains, Microsoft gained a large customer base in the United States and acquired about 2,000 employees to continue developing products for the mid-market enterprise sector, Forrester research director Laurie Orlov told the E-Commerce Times.
Although Navision and Great Plains target similar businesses, Great Plains brought Microsoft a primarily American presence. Navision, on the other hand, has a strong presence in the European Union. Along with a customer base about the size of Great Plains', Navision has about 1,200 employees.
Broader Offerings
Because Navision does not offer IT services, it has partnered with several companies, including Microsoft. An acquisition could cause problems for former European partners, including the UK's Sage Group.
Orlov told the E-Commerce Times that a Navision buyout would broaden Microsoft's mid-market offerings.
According to Orlov, Microsoft's expansion into this profitable area of the enterprise software market suggests that the company's strategy is to buy software rather than write it internally.
Missing Piece
Navision would add an international presence to Microsoft's offerings, Orlov added. And although overlap between Navision and Great Plains might be an issue, Navision could offer a piece of the market that Great Plains has not delivered, including supply chain management and knowledge management.
Analysts have noted that these acquisitions are beneficial to both Navision and Great Plains because of Microsoft's dominant position in the high-tech arena.