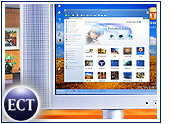 In a move designed to prevent its ever-growing range of products from drawing attention away from its core operating system, Microsoft has announced it will form a division solely focused on improving the Windows OS software.
In a widely circulated memo to employees, Microsoft said the division will become "a center of gravity for advancing engineering excellence within Windows."
The company said that having a stand-alone Windows unit will create a more streamlined process for integrating the OS with all of Microsoft's other software development projects, ranging from office productivity upgrades to more advanced Tablet PC software. Now, those projects will move forward in concert with Windows advances.
Speedy Delivery?
The change was seen by analysts as a possible way to hasten the development process for the next generation of Windows, which Microsoft has dubbed Longhorn. Microsoft has yet to pinpoint a release date for Longhorn, but most observers predict it will hit store shelves sometime in 2006. Chairman Bill Gates has described the Longhorn launch as the most important software release of the decade.
Microsoft did not immediately respond to requests for comment, but in published reports, executives there said the move will not immediately change the timeline for Longhorn's release. Observers said it could improve accountability at Microsoft's headquarters in Redmond, Washington, which in turn could help Longhorn reach completion more quickly.
Hit or Miss
Directions on Microsoft analyst Peter Pawlak told the E-Commerce Times that Microsoft has promised better-integrated innovation across its product line before but has had a hit-or-miss track record. The revamp could help improve that spotty performance.
The new unit, known as the Windows Core Operating System Division, will be led by company veteran Brian Valentine, who is viewed by many as a strong leader. Valentine also will head a "Windows Leadership Team" made up of other key executives involved in development and marketing of the Windows software platform.
"Microsoft has to do more to offer integrated solutions that deliver everything a customer needs both from a technical and a licensing standpoint," said Pawlak, citing better integration as one of Microsoft's key challenges for 2004, along with addressing the Linux competitive challenge.
Protecting the Core
In fact, some industry observers see the revamp as a response to the Linux threat, or as another chapter in Microsoft's Trustworthy Computing initiative, which aims to develop software that is inherently more secure.
The restructuring also may signal that Microsoft is redoubling its efforts to ensure the Windows core is as strong as possible — a message customers will want to hear as they weigh whether to keep using Windows or move to open-source alternatives, Gartner analyst Michael Silver said.
He noted that the dedicated development unit also might help attract interest in Microsoft's Longhorn beta and developer releases, which the software maker hopes companies will use to develop custom programs for the operating system.
"Longhorn is still far from delivered, and most enterprises probably see it that way," Silver told the E-Commerce Times, adding that given typical rollout schedules, it is likely to be 2007 before companies can deploy Longhorn in a meaningful way. "Microsoft benefits if companies start moving in that direction earlier. It paves the way for a strong release, and given the build-up, that's what they're going to want."