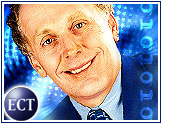 After just over a year at the helm, Microsoft (Nasdaq:MSFT) president Rick Belluzzo has tendered hisresignation, to the surprise of many in the industry.
According to Microsoft CEO Steve Ballmer, Belluzzowill step down as president May 1st but willstay on staff through September "to ensure a smoothtransition."
Reorganized Divisions
Belluzzo reportedly decided to leave the company inthe face of a reorganization that would give morecontrol and responsibility to leaders of each Microsoft coredivision. The reorganization was announced at the same time as Belluzzo's resignation.
The software giant's core divisions — Windows Client, Knowledge Worker,Server & Tools, Business Solutions, CE/Mobility, MSNand Home & Entertainment — now will be moreautonomous, and their heads will have greater individual operational and financial responsibility.
"We realized we needed to give our core leaders deepercontrol and accountability in the way they run theirbusinesses, while at the same time ensuring strongcommunication and collaboration across the businessunits," Ballmer said.
"Given where Steve and I knew we needed to take thebusiness, I decided it was the right time to pursue my goal of leading my own company," Belluzzo said.
Turf War Loss?
According to GigaInformation Group analyst Rob Enderle, Belluzzowas being groomed to take over Steve Ballmer's job,but the reorganization made that impossible.
"It looks like he lost a fairly major turf war withinthe company," Enderle said. "Many of the responsibilities he had beengiven were stripped out from under him, and thatconvinced him he needed to go."
According to Enderle, the reorganization has bothpositive and negative aspects. "It does apply asubstantially larger amount of authority to theproduct line manager. That's good in that it makesthem mini-presidents, but bad in that those people arenot usually groomed to be presidents and can make anawful lot of mistakes."
Fond Farewell
Microsoft credited Belluzzo with numerousaccomplishments, including a relaunch of MSN andplaying a key role in the development of .NET and Xbox.
However, some attribute Belluzzo's departure to the fact that Microsoft has yet to unlock the secret of how to make money from its Internet-based businesses.
Belluzzo joined Microsoft in September 1999 as groupvice president and was promoted to president andchief operating officer in February 2001. In thatrole, Belluzzo was in charge of worldwide sales andmarketing and Microsoft's games and TV division.
Before his stint at Microsoft, Belluzzo was anexecutive at Silicon Graphics and spent more than 20years with Hewlett-Packard.