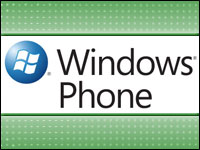 Microsoft's Windows Phone platform is gaining more interest from application developers. In fact, it's captured more developer mindshare than Research In Motion's older and more widespread BlackBerry platform, according to a recent study.
The third-quarter 2011 results of a survey by Appcelerator and IDC revealed that the Windows Phone platform has passed BlackBerry and moved into the No. 3 position among app developers.
The 2,160 respondents picked Apple's iOS as the number-one choice for platform development. The iOS lead included both the iPhone and the iPad. Android was a close second. Number three was the surprise, with Windows sitting on top of BlackBerry.
The survey asked developers how interested they were in creating apps for individual platforms. A hearty 91 percent said they were very interested in developing for the iPhone. The iPad in particular garnered 88 percent. Android came in with 83 percent in terms of phones and 68 percent when talking tablets. Thirty-eight percent were very interested in developing for Windows Phone, while the BlackBerry platform drew a 21-percent response.
MS Deal With Nokia a Winner
Earlier this year, Microsoft and Nokia announced a partnership in which the handset giant will ship high volumes of Windows Phone handsets. The one-two punch of software and hardware may be grabbing the imagination of the developer community.
The partnership has already produced a phone, the Lumia, though many more are expected.
"Microsoft has the capabilities to do what it takes to ramp up with Nokia," William A. Stofega, program director for mobile device technology and trends at IDC, told the E-Commerce Times. "The device itself, the Lumia, is finally something that is very attractive, and the Windows Phone 7 operating system on top of the Lumia is pretty impressive."
RIM Has Plenty of Oomph Left
Microsoft's gain is more due to its own strength and less to the weakness of RIM, said Stofega.
"I think this is about Microsoft and how the company has chosen to execute," said Stofega. "Plus, Nokia's speed of transforming to Windows Phone is pretty good. RIM has their work cut out for them in blocking any of Microsoft's gain."
While RIM has taken some recent body blows in the mobile market, the company still has deep roots with enterprise users. RIM is currently between device generations. The new hatchlings could come in with a bang.
"What we're seeing is RIM's emphasis on its new devices and new operating system," said Stofega. "It is quite powerful. So the jockeying for third place behind iOS and Android could go back and forth. In the end, the winner will be the company that can execute the fastest and the strongest."
BlackBerry Could Come Back
Not-yet-released data from Strategy Analytics comes to a similar conclusion regarding the preferences among developers.
"We're getting information that shows that last year the No. 1 platform was iPhone," Josh Martin, senior analyst at Strategy Analytics, told the E-Commerce Times. "Android was No. 2 last year and Android was the same this year. The iPhone dropped about 5 percent. The strongest gain was iPad. It showed real growth."
The number of developers who are focusing on Windows Phone this year passed RIM's BlackBerry platform, Martin noted.
"Last year Windows Phone was not really available," said Martin. "So Windows Phone 7 went from about 3 percent of the market to 10 percent." He noted that BlackBerry was about 6 percent last year; this year, RIM has slipped to about 1.5 percent.
The dip in developer interest in BlackBerry comes at a time when the company has been rocked by slumping consumer interest in its devices and criticism over the company's coCEO management structure.
"This is certainly a challenge for RIM," said Martin. "The company is undergoing significant changes on a corporate level, so it's not surprising that developers are wary.
As for the logic behind developer interest in Windows Phone, Martin points to Microsoft's internal strength rather than its deal with Nokia.
"There is consistency with Windows Phone. I don't see Nokia playing a big role. The deal is not really the story any more," said Martin. Windows Phone "is coming up to compete with iPhone and Android. You have an engaged user base that's ready to spend money."