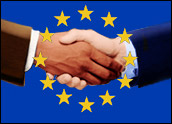 Microsoft is filing a formal antitrust complaint with the European Commission (EC) as part of the commission's investigation into possible Google violations of European competition law.
Google holds about 95 percent of the European search market. The complaint involves Google restraining competition by limiting search and Windows Phone access to YouTube and other services Google owns.
While Google and Microsoft are battling it out on multiple marketplace fronts, Microsoft claims this is the first time it has filed an antitrust complaint against a rival.
"Microsoft is ready to release a high-quality YouTube app for Windows Phone," Microsoft Senior Vice President Brad Smith said in a blog post explaining the company's action. "We just need permission to access YouTube in the way that other phones already do, permission Google has refused to provide."
Microsoft is alleging that Google's practices unfairly limit its chances for success in Europe.
"Google has done much to advance its laudable mission to 'organize the world's information,' but we're concerned by their broadening pattern of conduct — including walling off access to content and data," Smith said.
Google seems ready to take on its adversary in this dispute.
"We're not surprised that Microsoft has done this, since one of their subsidiaries was one of the original complainants," Google spokersperson Adam Kovacevich told the E-Commerce Times. "For our part, we continue to discuss the case with the European Commission, and we're happy to explain to anyone how our business works."
Microsoft did not respond to the E-Commerce Times' request for comments by press time.
Dominant Players Get Scrutiny
Google's control of an overwhelming percentage of the European market was bound to make the company a target.
"I suspect that having been subjected to antitrust action over the years, Microsoft is aware of how these tools are used in the business more than many others," Al Hilwa, program director for applications development software at IDC, told the E-Commerce Times. "If certain companies have commanding market shares, at some point they become subjects of scrutiny for anticompetitive behavior."
Input from companies like Microsoft can help the EC with its investigation.
"The modus operandi of this is always complaints filed by competitors, which provide the pretext for governments to take action in response," said Hilwa. "Without such complaints, governmental agencies might be accused of instigating spontaneous witch hunts. My observation is that these complaints initiate long lines of observation and analysis, and may not result in anything immediate — though long-term consequences can potentially be very significant."
Long, Slow Process
Aside from the fact that it's Microsoft complaining to the EU, this action is not unusual for the tech industry, observed Jim McGregor, chief technology strategist for In-Stat.
"After a regulatory body starts investigating a company, its competitors jump on the bandwagon," he told the E-Commerce Times.
"That's not to say that Microsoft's claim isn't valid," McGregor continued. "In many cases, these claims are valid, which is why they are being investigated. What is most interesting is that it is being driven by the European Union, which has been much more proactive in targeting the high-tech industry, especially U.S. companies with a dominant position. In fact, this might be the first time Microsoft and the EU are on the same side."
It remains to be seen whether this investigation will lead to legal action.
"The EU only announced an investigation — not an action against Google," said McGregor. "So, it is still premature to jump to conclusions. And, as we have seen in the past, the allegations may come from past circumstances that have already been or will be corrected before the investigation is even complete."
As with many legal entanglements, there may be no clear winner.
"In the long run, the only thing that can be gained is a level playing field, because court cases take a long time and cost everyone lots of money," said McGregor. "Only the attorneys gain from such court battles. In addition, all entities still have to compete in the marketplace, and unseating Google would be a major challenge."