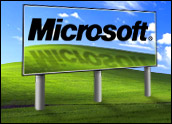 Riding strong demand for personal computers, Microsoft managed to beat analysts expectations for earnings, with income rising 24 percent, but analysts say the software giant's results had some weak spots, including in the online arena.
Microsoft said revenue in its first fiscal quarter rose 6 percent to US$9.74 billion compared to $9.19 billion a year ago, while earnings were up 24 percent to $3.14 billion, compared to $2.53 billion last year. Even with a 2 cents per share charge tied to the settlement of longstanding anti-trust claims with RealNetworks, Microsoft managed to beat analyst estimates by a penny per share.
Satisfied With Figures
The software company said it was pleased with the numbers and pointed to future product launches that would likely further boost revenue.
Microsoft also said it would step up efforts to buy back its own stock, spending up to $19 billion on its own shares in the next year, nearly double the previously planned amount. Analysts view that move as a nod to the relative weakness of the shares in recent months. Microsoft shares were up slightly in Friday morning trading to $25.40.
Also, in documents filed with the Securities and Exchange Commission in conjunction with the earnings report, Microsoft said it may be forced to pull Windows from the market in South Korea due to an ongoing inquiry in that country.
Though the numbers were strong, some analysts were quick to note a gap in the surge in personal computer sales — which research firm IDC put at around 17 percent — and sales of Microsoft's flagship Windows products, which grew 7 percent in the quarter. Many said the report bodes well for other tech firms lining up to present earnings, especially PC makers such as Dell.
Microsoft did better with corporate customers, it appears, than consumers, with server software sales rising nearly 13 percent. Another emerging bright spot may be the mobile sector. Microsoft's mobile solutions unit saw a sharp rise in revenue, from $49 million a year go to $75 million in the quarter that ended in September.
But there was weakness in the entertainment businesses, which Microsoft had hoped would grow as it positioned the PC and its software solutions at the center of the new wired home.
Search Targeted
Home entertainment sales were down, but executives cited the impending release of the new Xbox 360 as a key reason that buyers held off on purchases of older models.
Perhaps a bigger surprise to many was the drop in search-related advertising revenue from the MSN portal, which saw revenue rise 1 percent to $564 million but was lower compared to the previous quarter. Analysts quizzed Microsoft executives about the figure on a conference call, citing strong growth in revenue from rivals Google and Yahoo as cause for concern.
Microsoft said it would count on new technology being rolled out to boost its search advertising business. It has already begun overseas tests of a self-service advertising platform similar to the ones Yahoo and Google now use. That technology is expected in the U.S. within a few months and Microsoft also said it was planning to build search into more of its related products, such as server software.
Microsoft did not offer any insight into whether it was making progress in talks to acquire or strike a partnership with AOL, despite a speculation frenzy that accompanied reports that the Time Warner board of directors had called a meeting for Thursday.
Microsoft said it was pleased with the numbers, suggesting that the core growth would position it for more expansion when new products hit the market in coming months.
A new version of the SQL server software is due to launch before the end of the year, the next version of the Xbox gaming device is slated to hit stores in November and Windows Vista, the first major overhaul of the operating system since XP, is on track for a launch during 2006, as is Office 12.
"Over all, it was a good quarter," CFO Chris Lidell said in a conference call. "There is clearly a big product pipeline coming up."
Microsoft issued a guarded forecast that was below what analysts had expected, saying it would have revenue of $11.9 billion to $12 billion in the typically busy period that includes the holiday buying season.
Mixed Reviews
Some analysts said the quarterly results may indicate that Apple has made more inroads into Microsoft's PC market share, especially since the quarter included the back-to-school shopping season, where Apple has traditionally fared well.
All analysts agreed the stakes were high for the fourth quarter, with Xbox sales in the spotlight. Already, some are raising concerns that Microsoft will be unable to meet demand for the new gaming console, with some stores reporting waiting lists that exceed the inventory they're expecting.
Goldman Sachs analyst Rich Sherlund said Microsoft would likely not be able to meet demand for the consoles in December, but said that from a competitive standpoint, Microsoft had time to get the game boxes to market, since Sony's newest version of PlayStation isn't set to hit stores until sometime in 2006.
Piper Jaffray Senior Analyst Gene Munster said the current weakness in Microsoft shares means it is a good time to buy, not just for Microsoft but for investors who can take a long view. Launches of Windows Vista and Office 12 later in 2006 could lead to a long-term rally in the company's shares, he argued in a research note.
"Buying shares of Microsoft early will pay off," said Munster.