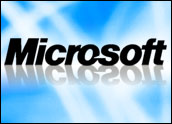 Microsoft said Monday that it has purchased a French firm that makes mobile search technology as the software giant makes a strong push to build a search infrastructure that will work across multiple devices.
The company did not disclose what it paid for MotionBridge, which is based in Paris and sells a technology that is used to conduct Web searches from mobile devices. MotionBridge has deals in place already with carriers in Europe and North America, including Sprint, Orange and O2 Ltd.
Adding to Windows Live Options
Microsoft said the purchase would enable it to offer more ways for users to access its Windows Live family of Web-based software and services.
"The emerging field of mobile search is strategically important and crucial to delivering on our vision for Windows Live of providing a seamless and rich information experience for individuals and businesses across devices," said Christopher Payne, corporate vice president of MSN Search at Microsoft.
With MotionBridge technology, Payne said Microsoft would be able to "offer mobile operators the tools to maximize the value of their content and data networks, and provide a powerful search engine for mobile users" and boost the value of its own mobile and local Web search products.
The technology sold by MotionBridge gives users clustered results and direct links to additional downloadable content. It also filters content for compatibility with the type of device being used to access the Web.
Making a Splash
The MotionBridge move was one of two major announcements that Microsoft made as the 3GSM worldwide mobile technology conference in Barcelona, Spain, got underway. The other involved a push e-mail technology that many see giving Microsoft a greater ability to offer an alternative to Research in Motion's BlackBerry.
Taken together, the moves show Microsoft striving to create a more seamless user environment, one that lets business users and consumers alike maintain access to their messages and their favorite Web-based information and services — which include a range of premium services, such as music downloads and location-based services, that carriers can charge users for.
Windows Live, a Web-based delivery model that offers access to some Microsoft software and a growing number of its Internet services, is clearly at the center of that always-connected model. Microsoft is reported to be close to announcing a plan to re-brand its MSN portal with a focus on the content it contains, moving current tools housed there, including Web search, e-mail and chat, under the Windows Live umbrella.
There, those services will become part of not only a new delivery model but also a new revenue model, with Microsoft able to collect click-through fees and other advertising revenue from users of the service.
Searching for Search Answers
Mobile search has been an area that major search companies, including Google and Yahoo, have thrown millions of dollars at, via buying startups and in developing in-house technology. Each has had its share of victories. For instance, Google will have Motorola produce some handsets with a one-click button for performing Web searches.
Yet consensus is that the right solution for accessing data on small mobile devices has yet to materialize.
Buying technology providers may make the most sense for the entrenched Web players that want to extend their reach to wireless devices, said Gartner analyst Phil Redman.
"The search companies have found that developing robust services for mobile devices is not as easy as rolling out another different Web service," Redman told the E-Commerce Times. "There are a lot more inherent limitations and other parties, including the carriers, to consider."
Microsoft may not have the killer application in MotionBridge, but even a solid offering could help it avoid losing users to competitors and even help it gain new ones over time.
"The market for mobile search is small now, but that makes it the right time for those with designs on being major players in the future to get a foothold in the market," telecom analyst Jeff Kagan told the E-Commerce Times.