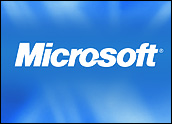 Sales of server products powered Microsoft to a more profitable second quarter as the software giant beat Wall Street expectations for earnings, while supply restrictions on the Xbox 360 were seen contributing to a near-miss on the revenue side.
Microsoft said income rose to US$3.65 billion, up from $3.46 billion a year ago, while sales climbed 9.4 percent to $11.8 billion, a second-quarter record for the company. Analysts had been expecting sales of $12 billion, which was the top of the original forecast Microsoft issued before toning its outlook down amid shortages of its new gaming console.
Unlike many other tech bellwethers that have reported earnings in the past two weeks — notably Intel and rival Apple — Microsoft did not disappoint with its outlook, saying it could beat analyst forecasts for the current quarter, with revenue expected to be between $10.9 billion and $11.2 billion. The company also gave a solid outlook for all of 2006.
That's at least in part because Microsoft has a stream of new product releases, including the new SQL 2005 server software and the upcoming Windows Vista, that could help power its sales even as the tech sector overall experiences more modest growth.
SQL and related products saw the biggest gains in the quarter, with sales up 14 percent to $2.91 billion.
Sales in the Box
The Xbox 360 launch did help drive the Home and Entertainment Division to 13 percent sales gains, with revenue at $1.56 billion, most of it derived from Xbox sales. That part of the company still lost $293 million, however.
Microsoft said it was happy with the Xbox results so far and remained upbeat about the overall first-year sales of the new platform, which enjoys a head start in the market against rival products from Sony and others.
Microsoft still expects to sell 4.5 million to 5.5 million Xbox 360s by the end of its current fiscal year in June, Chief Financial Officer Chris Liddell said in a conference call.
Enterprise sales and a strong overall demand for personal computers helped lift Microsoft, commented Chief Operating Officer Kevin Turner. Sales of the Windows operating system rose 8.3 percent to $3.46 billion.
"The growth in our core businesses was healthy," Turner said, adding that the company is poised at the start of an "important product cycle" as the Xbox and SQL 2005 were the first of several new product launches.
Despite facing increasing competition from "free" rivals in the open-source community, Microsoft has some advantages over some other vendors such as Intel, said Enderle Group principal analyst Rob Enderle.
"They are protected somewhat by enterprise agreements that assure the revenue stream but they don't assure growth and the fact is that they had growth in the year before the release of two major products, Vista and Office 2007," Enderle told the E-Commerce Times. "I would have expected flat to declining revenue given all of that."
Still Standing
Liddell, meanwhile, noted that Microsoft continued to return huge sums of cash to shareholders, spending some $8.5 billion on dividends and stock buybacks in the quarter.
Longer-term, Microsoft may have still more going for it. The launch of Windows Vista will likely come in the 2007 fiscal year, as will any impact of Microsoft's pending launch of its own online search-ad buying system, slated to go live in the U.S. in June.
That move is seen giving Microsoft the best chance yet to compete head-to-head with Google for search and other types of online advertising revenue.
In a research note, Standard & Poor's Equity Research analyst Scott Kessler said Microsoft may put a damper on Google growth over time.
"We continue to believe that Microsoft's focus on the search category will eventually have an adverse impact on Google," Kessler wrote.
Enderle said from the outside, Microsoft is currently several stories in one but most objective observers would have to say it continues to execute well amid fierce competition.
"While Microsoft remains in-conflict inside the company and regularly gets its butt kicked by companies like Apple, in some segments they have done some impressive butt-kicking themselves in gaming and security," he added. "Of course, those of us that are outside the company and follow it are aware of what the company could do and that often leads us down the glass half empty path. But when taken against a number of other large companies, GE and GM for instance, they are definitely still performing with the best."