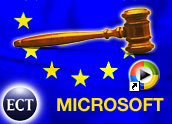 Microsoft said Tuesday it had formally appealed a US$357 million fine levied against it by regulators from the European Union, who say the software giant failed to comply with earlier sanctions meant to create a more competitive software marketplace.
Microsoft had indicated it would appeal the fine shortly after it was handed down in July and formally filed the complaint with the European Court of First Instance in Luxembourg on Tuesday.
The court said it would schedule a hearing on the appeal in a matter of days, but no schedule was given. The court is also moving forward with Microsoft's appeal of the original antitrust ruling. A decision on that matter is not expected until early to mid-2007.
The second major fine from the EU, which brought the total financial penalties against Microsoft to nearly $1 billion, came after regulators found Microsoft had failed to comply with the requirement that it share its server code with rivals in order to enable them to make more compatible products.
Though Microsoft had created a code and protocol licensing program, a third party monitor hired to evaluate the program had found it too costly and confusing to lead to widespread adoption among European software vendors.
Ruling in Focus
Microsoft said it would ask the appeals court to determine whether the company had complied with the original ruling by supplying "complete and accurate technical specifications" to rival server software makers.
It also claimed the fine — the first ever issued by EU regulators against a company for failing to comply with a penalty — was "unfair" and that Microsoft's compliance was made more difficult because the EU was not clear about what it wanted to be shared.
Microsoft has been locked in a battle with EU regulators since early 2004, when the first antitrust ruling came down. Though it moved to comply — for instance, it paid what was then a record $650 million fine immediately, and rolled out a version of Windows XP that does not include the Media Player software as part of the ruling — Microsoft also lodged an appeal.
The European Commission, which is overseeing the antitrust case, repeatedly threatened Microsoft with daily fines for failing to satisfy the code-sharing requirements. Microsoft responded by saying it had spent millions of dollars and hundreds of hours of developers' time to comply with the requirements.
The commission finally acted in July, levying the fine that represented the maximum daily penalty allowed based on a percentage of the software maker's European sales.
Vista Delays?
The EC has credited Microsoft with making recent improvements to its licensing program, but insists the company only did so after the latest round of fines. Meanwhile, another battle may be looming over Microsoft's Windows Vista.
Microsoft said recently that concerns among European antitrust regulators may force it to delay the release of the platform in Europe. Regulators are said to be concerned that so many functions, from anti-spam and other security features to Web search, are built into the newest version of Windows.
Depending upon how tough regulators get with Microsoft, worldwide delays of Vista's launch could result, according to Gartner analyst David Mitchell Smith.
For instance, security product vendors have been among those calling for scrutiny of Vista, and if the EU requires Microsoft to disable some of those features, it may well hold off on shipping the platform.
"The built-in security is a feature that Microsoft has put at the forefront of the list of improvements being baked into Vista," Smith said. "Rather than disable the security features, it may well decide to hold off on shipping the software worldwide."