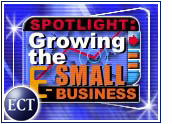 Microsoft announced a new alliance with Partner America on Friday designed to help small businesses venture into the world of e-commerce.
Partner America, a public-private partnership between the United States Conference of Mayors and American Management Services, will be co-sponsoring a series of Microsoft "Big Day" seminars, workshops and roundtables at locations across the United States to teach small businesses how to succeed online.
Partner America chairman George Cloutier told the E-Commerce Times that the key for small businesses on the Web is to take it slow and be cautious.
"You have to use e-commerce carefully," Cloutier said. "Small businesses were just jumping online thinking e-commerce was going to solve all their business problems. We're trying to use Microsoft resources to make sure small businesses can do [e-commerce] economically and do it right."
Myth and Reality
According to the U.S. Small Business Administration, there are 23 million small businesses in the U.S., representing 47 percent of all U.S. sales.
However, while more than 850,000 new small businesses are created each year, many are still overwhelmed by the idea of e-commerce.
"One of the biggest myths small businesses have is that it's very difficult to get an e-commerce presence," Microsoft Big Day corporate account manager Mark Evans told the E-Commerce Times.
Cloutier said that while there's a huge demand from small businesses to venture online, many simply don't know where to get started.
"One of their biggest concerns is: 'How do I use the Internet? How do I make money on it?'" Cloutier said. "The barrier is almost an intellectual one."
Tool Kit
Evans said that the seminars will teach small businesses the differences between different operating systems, and familiarize them with Microsoft e-commerce tools such as Frontpage and bCentral.
"The whole seminar is basically designed because small businesses currently under-utilize the technology on their desktop," Evans said. "E-commerce solutions allow the small businesses to directly compete with large businesses again, because now you can scale a business much more easily."
Both Evans and Cloutier said that small businesses must think of e-commerce as an additional tool to their long-term strategy, rather than the end goal.
"Small businesses should approach [e-commerce] slowly, aggressively, and think through the opportunity in dollars and sense and how it affects sales and profits," Cloutier said.
Engineer Encouragement
In related news for small e-commerce ventures, the chairman of the National Commission on Entrepeneurship (NCOE) lobbied the U.S. Congress last week to enact legislation designed to boost the U.S. supply of engineers and other technical workers and provide entrepreneurs with greater access to capital.
"For many Internet entrepreneurs, finding talented engineers is an overriding concern," NCOE Chairman Doug Mellinger said. "We must find ways to encourage more investment by angel investors, as well as the creation of early stage investment firms."
Mellinger's recommendations to Congress included adding preferential capital gains treatment for individual investments in emerging and startup companies, and relaxing the restrictions of the Investment Company Act, in order to allow the formation of more professionally managed funds targeted to the capital gap.