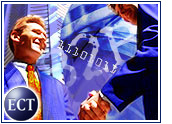 Click Commerce, Inc. (Nasdaq:CKCM) advanced 3 3/16 to 22 5/16 Tuesday after the Chicago, Illinois-based company, which provides e-business applications and services, announced analliance with Microsoft Corp. (Nasdaq: MSFT).
Microsoft will provide Click Commerce with access to Microsoft enterprise platform software, enabling Click Commerce to develop products that are integrated with those of the software giant. In addition, Click Commerce and Microsoft will conduct joint marketing initiatives and provide technical support for clients.
Andersen Consulting, already an advisor to both Click Commerce and Microsoft, will play "a leading role" in the expanding relationship between Microsoft and Click Commerce.
"This new level of commitment from Microsoft enables us to provide a morecomplete product on the Microsoft platform," said Click Commerce chairmanand chief executive officer Michael W. Ferro. "We will now have increasedvisibility into future Microsoft initiatives, allowing us to provide an evenhigher level of service to our customers."
Click Commerce provides its e-commerce applications and services to,among others,American Standard, Black & Decker, Motorola, and Qualcomm. The company says its products enable companies to increase brandloyalty, customer satisfaction and financial performance.
Click Commerce reported third-quarter revenue of $10.1 million, up 381percent from a year earlier, along with a loss before special items of $1.4 million, or 4 cents per share.
Ferro said the company benefited in the quarter from strong growth inseveral markets, including recreational products, chemical processing,industrial machinery and transportation. The company's partnership withAndersen Consulting also contributed to the revenue gain, he said.
Click Commerce shares are trading below a 52-week high of 45, set inSeptember, but above a 52-week low of 10, reached last June.